Free Transcription Tools That Are Incredibly Accurate: Transcription tools have become a necessity in today's fast-paced digital world. Whether you're a journalist, a student, a researcher, or a content creator, these tools can save you hours of manual work. Transcripts can help you to summarise important information from lectures, or to add accurate subtitles to your YouTube videos. Once you have good subtitles, it makes it easy to have them translated – which helps you reach a much wider audience. With AI revolution in full swing, you can now get exceptionally accurate transcriptions completely free. Here are six free transcription tools that are known for their accuracy:
Descript
1 hour of free transcription a month on the free plan
Descript is a groundbreaking tool that has transformed the way we approach audio and video editing. Its unique selling point lies in its innovative use of transcription technology to edit media files. By simply editing the transcription text, you can edit the corresponding audio or video – a process that is as intuitive as it is efficient.
The accuracy of Descript's transcription is commendable, with very high levels of accuracy. The Overdub feature, which allows you to create a synthetic voice of yourself or others, is another standout feature. It's a game-changer for making corrections or adjustments without needing to re-record. Descript also offers a suite of traditional editing tools, such as cutting, trimming, and arranging clips. The platform supports multi-track editing, making it a versatile choice for complex projects.
In terms of pricing, Descript offers a free plan with limited features, which is a great starting point for individuals or small teams. The paid plans offer more advanced features and are competitively priced. This is one of my favorite free transcription tools thanks to their generous monthly allowance.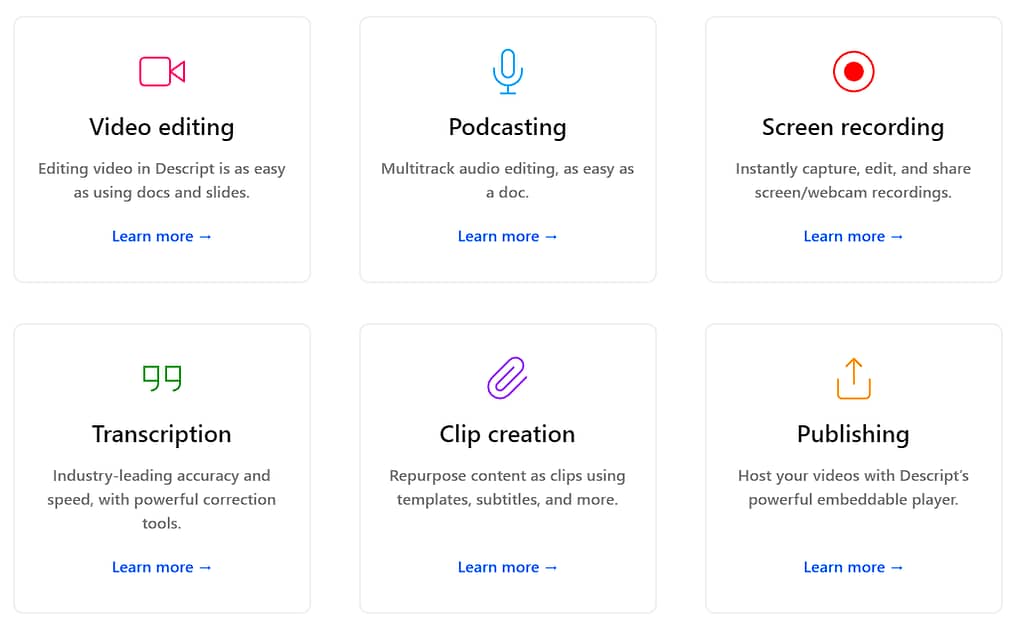 Veed
30 minutes of free transcription a month on the free plan
Veed.io is a web-based video editing platform that has made a name for itself with its user-friendly interface and robust feature set. It's a tool designed for content creators, marketers, and anyone in need of a straightforward solution to video editing.
The platform is designed with simplicity in mind, making it accessible for both beginners and experienced video editors. The tools are easy to find and use, and the platform's performance is smooth, even when handling high-resolution videos.
Veed.io offers a wide range of editing tools, from basic trimming and cropping to adding subtitles, text, music, and filters. The automatic subtitle generator is particularly impressive, providing accurate transcriptions and the ability to manually adjust the timing and text of the subtitles.
The platform also has recently added an eye correction feature that will use AI to make it look like you are always looking at the camera – instead of reading your script. You no longer need to worry about too much eye movement.
Veed.io offers a free basic plan with limited features, which is great for individuals or small businesses starting out. The premium plans are competitively priced and offer a comprehensive set of tools that can rival standalone video editing software.
Nova AI
30 minutes of free transcription a month on the free plan
Nova AI is a video editing tool with a strong leaning toward accurate transcription and translation. The user-friendly drag-and-drop interface makes the process of finding specific footage in my content library a breeze. The automated transcription and translation capabilities are nothing short of impressive. Nova AI can transcribe, translate, and generate subtitles for videos in over 40 languages, making it an incredibly versatile tool for content producers working with diverse audiences. The translation quality has stunning accuracy. The process is straightforward and quick, with an accuracy rate of about 97%. The convenience of having an entirely web-based translation software that doesn't require installation is a significant advantage.
The ability to search for specific words and phrases within the audio track is a feature I've found particularly useful when creating themed video content. The web-based clip editor is simple yet effective, although it could benefit from more advanced editing features. The ability to resize footage for any platform is a major plus, as is the support for a wide range of popular audio and video formats.
WiseCut
30 minutes of free transcription a month on the free plan
WiseCut is a tool that removes unusable parts of your video automatically. WiseCut's AI-Powered Auto Cut feature automatically and swiftly eliminates long, awkward pauses, making the creation of jump cuts a breeze. It also uses AI to match music to the mood of your videos. Plus, all music selections are pre-cleared, eliminating worries about copyright issues and enabling monetization on platforms like YouTube.
WiseCut's user-friendly platform design simplifies editing for creators of all levels. The AI Storyboard Tool allows for text-based editing using an auto-generated storyboard, making the editing process intuitive and efficient. It also enhances the accessibility and engagement of your videos with Auto Captions. This feature generates subtitles automatically, which can be quickly edited using the AI Storyboard tool. And with just a click, your video's subtitles can also be automatically translated into other languages.
WiseCut's AI ensures your audience hears what matters most. It balances your audio by automatically lowering the music when someone is speaking and increasing it when speech is absent. It also helps in removing background noise And one of the most popular features is the Facial Recognition 'Punch In/Out' feature. This AI-powered tool creates the illusion of a second camera, automatically adding closer range shots for a more engaging and concise video.
Wave.Video
5 minutes of free transcription a month on the free plan
Wave simplifies the video creation process by providing tools to create your content, edit it, and the ability to publish the videos in multiple formats for optimal sharing across various social platforms. Wave's user-friendly interface makes editing a breeze. Click on any text on any video, and the tools you need to edit that text pop up, ready to go. It also offers a growing library of professionally designed templates, making your video creation process much easier.
You can add transitions, animations, and more to your text with Wave's text tool. You can also freely position your text, giving you more creative options. You can clip and trim your audio, add multiple music tracks, and even add your own audio content. You can also record your voice directly into your video. Wave is popular for it's text-to-video feature which pulls in stock videos to match your article, as well as the ability to automatically transcribe your videos to create subtitles.
MeetGeek
5 hours of free transcription a month on the free plan, but only for Zoom, Google Meet, and Teams
MeetGeek is an AI meeting assistant package that takes notes, captures tasks, transcribes meeting recordings, and generates meeting minutes. It leverages the power of artificial intelligence to streamline meeting processes, capture crucial details, and help us mine key insights from conversations. This AI assistant makes measuring and sharing meeting insights with colleagues or business clients easy, and it could also be extremely valuable for capturing customer feedback.
MeetGeek's ease of setup, wide compatibility, intuitive user interface, accurate transcriptions, and comprehensive analytics make it a standout tool. However, it does have a few limitations, such as not documenting chat, lacking a whiteboard capturing feature, limited third-party integrations, and limited features on the basic plan. Customization may also require a learning curve.
MeetGeek summarizes everything said, so you can focus on the conversation without worrying about taking notes. But MeetGeek is much more than just a simple transcribing tool. Its AI-powered algorithms allow it to identify and highlight key points during the discussion and suggest follow-up actions based on the conversation. It makes it easy to review the most important parts of a session without having to wade through long transcripts.
MeetGeek's initial setup is straightforward and user-friendly. The platform's step-by-step instructions are clear and non-intrusive, and the ability to sync with both Google and Outlook calendars is a testament to MeetGeek's commitment to user experience. Furthermore, MeetGeek is compatible with all major video conferencing platforms, including Zoom, Google Meet, and Microsoft Teams.
When a scheduled video call begins, the host will get a request to join from the MeetGeek AI meeting assistant bot, just like any other attendee. Once the bot is admitted to calls, it immediately announces in chat that it records the call in order to take notes. This transparency is key in complying with local laws and maintaining trust with meeting participants. MeetGeek's user interface is simple yet sleek, with a sidebar containing ten items grouped under four main headings: Meetings, Automation, Analytics, and Account. This is a very powerful free transcription tool that shouldn't be missed.
Free Transcription Tools That Are Incredibly Accurate
Transcription doesn't have to be a time-consuming task. With these free and accurate transcription tools, you can easily convert speech into text and focus on what truly matters. Always remember, though, that while these tools are incredibly accurate, they may not be perfect, and some manual editing may be required for 100% accuracy. When editing a video down, you can easily go from 30 minutes of raw footage to 3 min of actual edited footage. This means that you may need much less transcription minutes than you think. While starting out with video creation, these tools offer a great way to create subtitles/captions without the need to pay anything extra.