DashNex Review – Honest & Unbiased – I've seen a lot of adverts for DashNex and each one confuses me more than the last. The many different names of products included, various prices and confusing marketing. I'm not sure if they are intentionally so obtuse with the way they market this product, or if this is their marketing strategy, but it was a big put-off for me.
However, I didn't want to throw them under the bus without giving them a fair shot. So I signed up for a paid account (free account uses Dashnex subdomain), to fully test it out. And I recommend you avoid it completely.
If you're looking to create a website, try out Way for super easy website creation.
What is DashNex?
Dashnex is a website creation and hosting site. It has a few ecommerce features that aren't fleshed out. It's cloaked in a shroud of confusion and limited information that makes it difficult to understand without buying it first.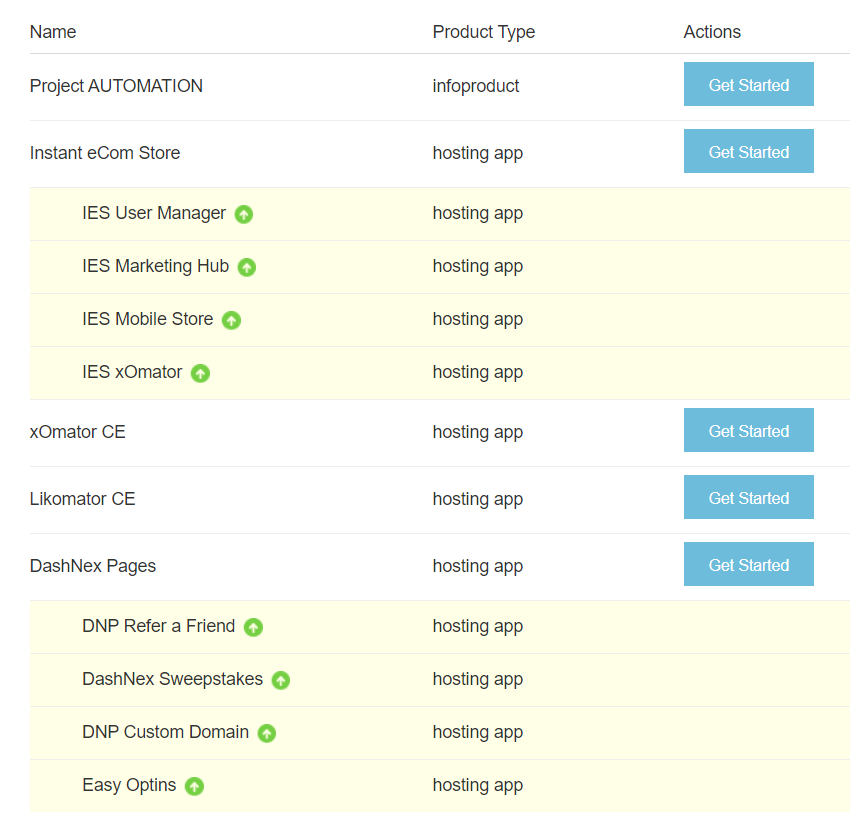 Upon signing up for a paid account, I was greeted with this confusing page that serves as a navigation menu. Now, unlike Shopify that has everything readily available as you enter – DashNex leads through the setup process bit by bit. This is great for beginners but for a veteran marketer, it's a little annoying jumping through these menus. And who came up with the names xOmator and Likomator? Seriously!?
I think the best way I can review DashNex is to work my way through some of the items on this menu first:
1. Project Automation
The first section of Project Automation is basically a tutorial on how to create your own ecommerce store from scratch. It has replays of Live Coaching Sessions that will teach you how to get your store up and running. For first-timers, this could be pretty useful. I skipped through it to make sure that the videos all played fine, and all was well. Perhaps, I'll actually watch them someday and learn something new…
The next item in this section is 2 Copy & Paste Funnels that you can download to your PC/Mac. This was pretty interesting to me, as it covered two full campaigns.
Each of the 2 Copy & Paste Funnels comes with the following:
2 x Books that can be given away as freebies on your website
1 x Website Squeeze Page to collect email addresses
6 x Emails to add to your Autoresponder
1 x Automation Guide (Steps to Funnel the Client)
The third item in this section is the link to the private Facebook group. You will need to provide the email you are using on DashNex in order to access this group.
So DashNex consists of 2 separate website creators. Instant eCom Store is the dropshipping store creator, while DashNex Pages creates special event, webinar registration, affiliate marketing, etc. websites.

Special Offer Available at end of article
2. Instant eCom Store (IES)
The Instant eCom Store is a dropshipping website creator where you can sell physical products. I won't go into too much details but it's your basic store (nothing special). If you're planning on importing products from Aliexpress, you could probably manage to put something together with this (once you've dug through the menu system).
You will also be able to view all your sales and customer info from the Dashboard.
Stores is where you will create your storefront/s and connect it/them to your domain.
Next is Shipping, where you can setup your shipping classes – which works similar to Shopify.
Integrations is where you add Autoresponders (Aweber, Mailchimp, etc), Merchants (Braintree, Paypal, Stripe), Tracking (Facebook Pixel/Google), Product Fulfilment (Printful/Scalable Press), and Shipping (Shipping Easy/Ship Station [both were coming soon].
User Manager allows you to setup a team with managers – if you are company or group of people that will be working on the store together.
Finally, the Properties section let's you create Sizing Guides such as XS, S, M, L, etc for clothing and other items. You can add the info in both CM and Inches and provide an image as well. I thought this was pretty interesting.
3. xOmator
This oddly named item is a Chrome extension that helps you to find products on Aliexpress. It also imports these items to your store. It's basically the DashNex version of Oberlo.
4. LIKOmator
This is also a Chrome extension. It adds a mass invite button to your Facebook pages so that you can easily invite people, that have liked or commented on a post, to like your Page as well. You simply press the mass invite button and leave it running until it hits Facebook's maximum daily allowance of invites.
On the Next Page – Pros, Cons, Pricing, Review Verdict and How to Get the Lowest Price