Ligna Review: You must have heard about Ligna by now. It is one of the most exciting pieces of software I've seen in ages, and it is bursting with features. It's a combination of some of the most useful tools a business/agency could ever need – all rolled into one tool. It has everything in it, as well as the kitchen sink. I was a bit confused at first with so many options available, but once you've played around with it, you'll see just how powerful Ligna really is.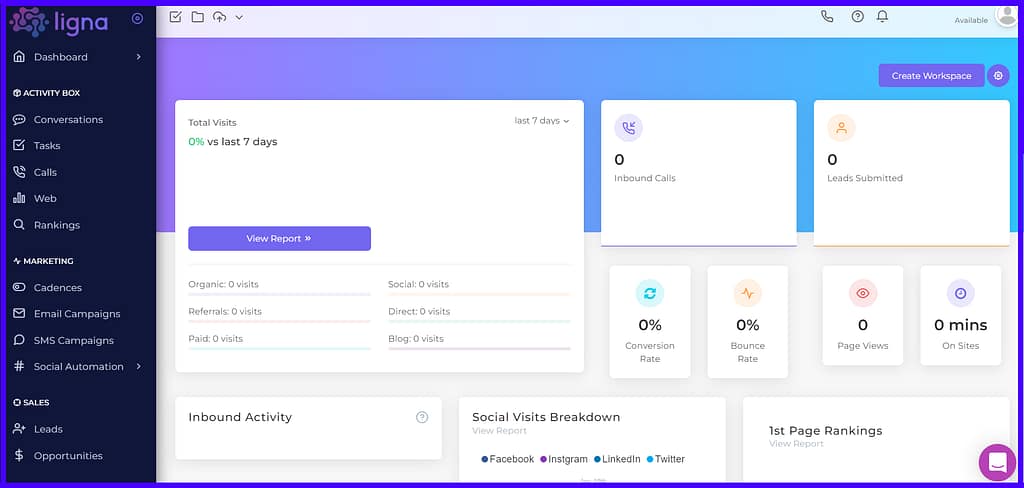 Ligna has some features similar to Vbout, SuiteDash, HighLevel, Nextiva, Ahrefs, Trello.
I think that agencies will be able to make the most use from this software, but depending on your business – there's surely something that will get you excited.
If you work in sales – you can make and receive VoIP calls, send SMSs, create website pages/funnels (with Stripe integration) and track your website SERP rankings in Google and Bing.
2. If you work in marketing – you can send emails through SMTP or Gmail integration, create blog posts, and schedule or automate posts to your social media.
3. If you have a team or outsource projects – you can setup tasks (similar to Trello) and track which ones have been completed, setup meetings with your team, create courses for training, and control what features each member of your team has access to.
Of course, you can mix and match tools to run your business any way you like, this is just to give you an idea of what Ligna is all about.
I think the easiest way to break down everything that Ligna does, is to show you the menu and work through each feature.
---
DASHBOARD
The dashboard is made up of Marketing, Sales and Projects.
---
ACTIVITY BOX
---
MARKETING
---
SALES
---
CMS
---
PROJECTS
---
CONTROLS
---
SUPPORT
---
LIGNA REVIEW
All in all, Ligna is an extremely powerful tool (once you've spent a little time with it). Most agencies or teams will easily find a good use for its features. Solo entrepreneurs may not find it as useful, but there are still many things worth their time. For instance, this tool could be used as a cheaper alternative to expensive monthly autoresponders, or as a cheap VoIP service.
Support is very quick and helpful. They've addressed all my concerns, and have been very patient with me when I asked dumb questions. There are, however, a few things that need a little polish. For example, I couldn't find clear instructions on how to point my domain to a website I had created on Ligna. I contacted support and they immediately gave me the instructions. I think they prefer you contact them with these kind of things so that they can walk you through the process, however, I prefer to have the info in front of me from the start.
Ligna has a lot of features planned in the coming months that have me very excited to grab a bunch of codes, such as 35 new website templates, 15 email templates, and 3rd Party Integrations with Instagram, Zoom, PayPal, Zapier, Google Search Console, Facebook Marketing Ads, and Google Adwords.
▶ You can get Ligna here (lifetime deal).