3 Free Maze Generators with Commercial Use for KDP: The problem with searching for maze generators online is that most of them don't allow for commercial usage. They are either intended for teachers to use or they have a steep monthly price to allow you to use them for profit. There are 3 great options to choose from – each with different strengths, so you'll surely find one that fits your needs.
I've also included the paid maze software that I use to create thousands of commercial use puzzles every day.
1. Codebox Maze Generator
2. Keesiemeijer Maze Generator
3. Daleobrien Weave Maze Generator
I've used a lot of maze tools to help me create my KDP maze books. Unfortunately, most tools do not allow commercial usage while others don't have what I need to make the type of books I want. Of course, the free tools will help you to create maze puzzles, but if you want to bulk create amazing mazes each and every day – then you'll need to invest in a paid tool. The one that I use has a once-off cost, so there are no monthly fees connected to it. Pay once, and make thousands of puzzles every month for your KDP business.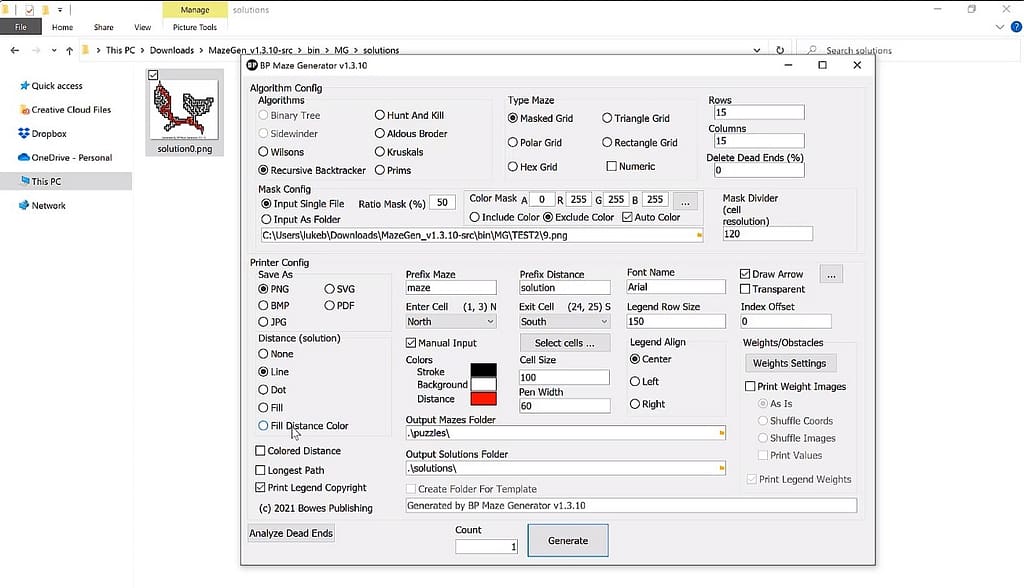 With this maze tool, you'll be able to:
Resize and replace arrows to entrances and exits
Choose your solution type – dots, lines, color, etc
Choose maze entry and exit points
Make your mazes look like images – cats, cars, etc
Add monsters/obstacles to mazes
This maze tool gives you lots of useful features to bulk-create as many mazes as you need. The tool runs in Windows, so it works super fast to create thousands of mazes – that you can use for commercial usage.
???? Download it here