5. DashNex Pages
DashNex Pages is where you can create webinar registrations, affiliate sites, sweepstakes, etc. This is where it differs the most from Shopify and adds in some different functionality. This is something that Shopify doesn't do at all and DashNex really shines with its implementation.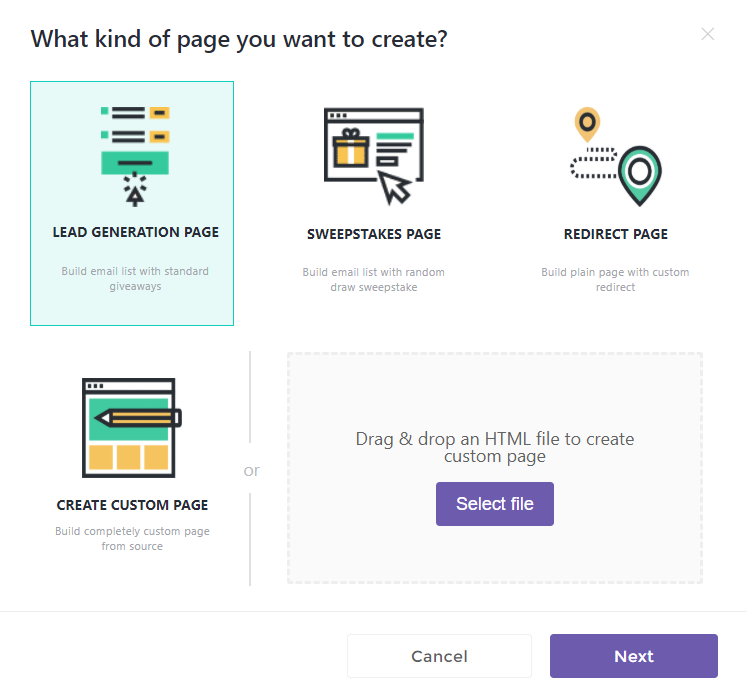 This is where you create the pages for your website/s.
You can make a Lead Generation Page, Sweepstakes Page, Redirect page, Custom Page, or upload your own HTML site.
The Lead Generation page is your standard webpage but it included a bunch of options that you'd have to pay a monthly fee for in Shopify.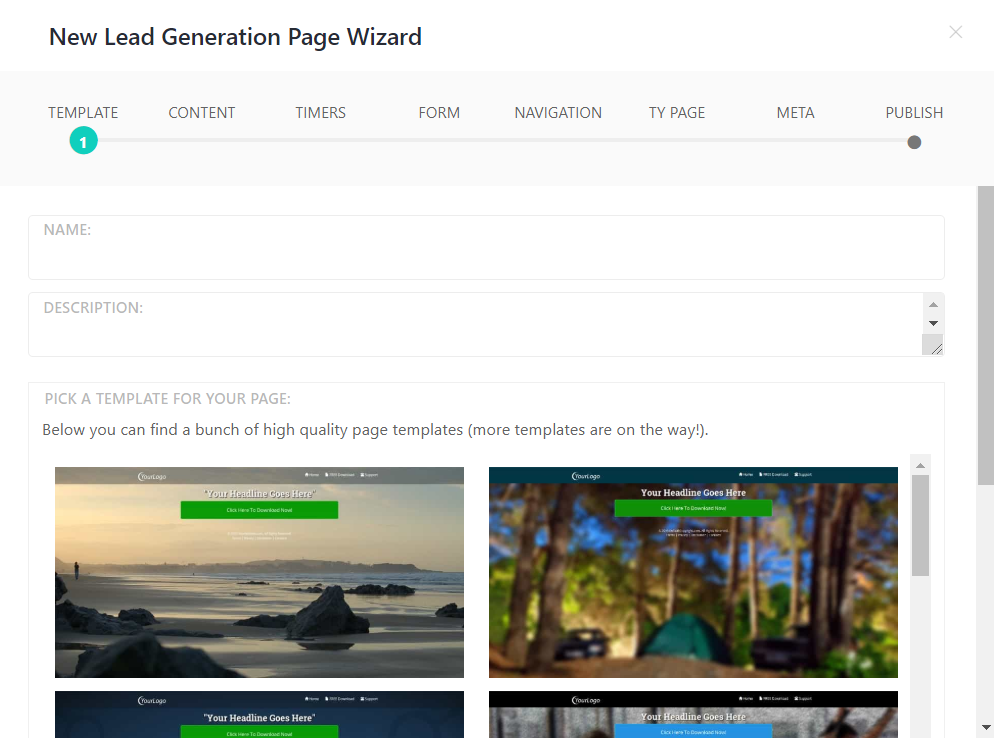 The Lead Generation Page is your standard webpage but it included a bunch of options that you'd have to pay a monthly fee for in Shopify.
First, you'll need to choose a Template to work off of. There were 32 templates available at the time of writing this.
In the Content section, you'll add your headline and optional cover image. You can also add a Call-To-Action Button here and import your Facebook comments and Facebook Likes from this section.
In Timers, you can add an optional timer to your page. You can set it to be Global or Personalized. You're also able to an action to take once the timer reaches zero – redirect, repeat or remove.
In the Form section, you can add one of the integrated Autoresponder forms, add your own HTML Email Form, or have no form.
Navigation is where you will define the URLs of your Privacy Policy, Contact Page, etc.
TY Page is your Thank You page. You can add a personalized message to thank your customers for their support here. You can also upload a digital item for your customers to get access to after they've paid.
Finally, the Meta section is where you will add your Meta title, description and keywords for SEO.
---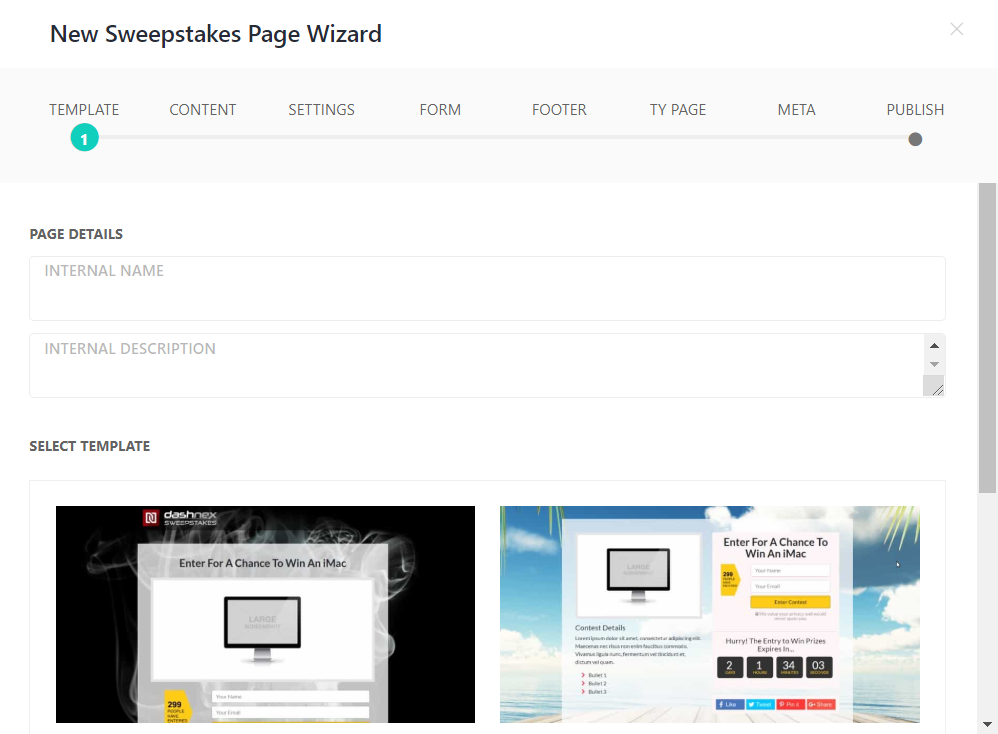 The Sweepstakes Page is quite self-explanatory. You have 2 templates to choose from with titles such as "ENTER FOR A CHANCE TO WIN…". These are great for collecting emails. Most of the options from Lead Pages will be available here as well.
---
The Redirect Page lets you redirect any page you create to another URL. So if you're using one main domain to save money, you can redirect pages from that domain to different offers that you are advertising.
---
The Custom Page lets you create a page from scratch using HTML, while the Drag and Drop section allows you to upload your own saved HTML webpage.
---
MAKE SURE TO READ THE LAST SECTION BEFORE SIGNING UP
When you first sign up for a free account, you will only have access to the DashNex Pages section. You'll able to use a subdomain on DashNex to create a single site (no custom domain) with up to 5 webpages. This is a great way to test out the site, but there's one problem…
After you've signed up for a free account, you're redirected to a special offer via video. If you skip over this offer to test out the free version first, you will not be able to get the same deal again. I had to use a different email to get access to the lower priced deal. I really think that they should have allowed customers to play with the software first and then offered this deal.
Pros
Unlimited Pages – Create as many pages as you like
Unlimited Traffic – There is no upper limit (unlimited visitors)
Digital Downloads built into core program – When using Shopify, I regularly have customers that cannot access their digital downloads from the app)
Large number of Templates to choose from in DashNex
Upsells built into core program – Here's looking at you Shopify!
Integrated Social Add Buttons in Instant Ecom Store
Free SSL encryption
Auto Creation of ALL Legal Pages
1-Click Insertion of Trust Badge
Optimized for SEO
Websites load fast
Referral Program – If you refer enough of your friends and coworkers, you can cover your monthly costs easily.
Can be decently-priced – If you use the right offer, the price is great
Cons
Information Drought – I spent hours trying to find answers to my questions before buying the product and figuring it out myself
Spammy-looking sales pages and ads – it's a great product but needs better marketing
Overly-complicated menu design – The menu doesn't flow as organically as most other management systems.
Overly-complicated naming – Instant eCom Store, DashNex Pages, xOmator, Likomator. Why, just why?
More integrations needed – I do a lot of Print-on-Demand products and I find Printful too expensive. I'd like more integrations to choose from.
No Templates in Instant eCom Store

Pricing
The pricing is a headache to understand. There's different prices depending on where you go and what you click on. Now, don't click away just yet as I'm going to break down some of the prices you'll see, and at the end of the article I'll show you how to get the best deal.
If you get the special deal at the end of the article, you'll only pay about $47 a year for hosting up to 10 websites. So you'll be paying approximately $3.9 a month to get the same features as Shopify where I used to pay $29 a month for 1 website.
If you skip this, there's a movable scale that will calculate your monthly costs per month. From the one's I've looked at, it's $7 a month for 1 website, $29.75 a month for 5 websites and $58.10 a month for $10 websites.
Verdict
Right off the bat, Dashnex's site comes off a little spammy/scammy. I do not like the presentation of their product and think it could do with a redesign or an advanced mode that just links directly to each section – like Shopify. You will go through a lot of menus and you will randomly come across incredible settings that are hidden for some reason, but you'll be grinning from ear-to-ear when you do. I've saved so much from not having to pay for additional apps.
Marketing and aesthetic aside – I love this product! I've had a number of sites on Shopify, but at $29 per site per month, the bills started piling up. The WordPress/Woocommerce combination is a cheap alternative, but site speeds suffer as you have to continually add more and more plugins to get the functionality you need. You also have to pay for a very good hosting service – shared hosting just doesn't cut it.
Dashnex gives me a rough Shopify feel at a fraction of the price. Hell, with Shopify, for 10 websites, I'd have to pay $290 a month ($29 per site per month). That's a grand total of $3480 a year! I pay $47 a year for DashNex. I'll take the rough edges and smile!
How to get DashNex Pages for $47 a Year
So after messing it up and losing my discount the first time, I'll show you how to sign up to Dashnex Pages and get the best deal.
To get the lowest price, follow the guide below:
First, you'll want to head there through this

link

. This is an affiliate link, so you'll get the same rate as going to their website directly except that you will receive $5 in credit to your account. You won't be able to use the $5 credit for 14 days.

Next, sign up for a Free Account and you'll be redirected to a video for the full version at $47 a year for 10 websites. You will want to take this offer as it's the best deal they'll give you. If you decide to go straight to your email and login without accepting it first, you'll have to pay the monthly fees instead:
$7 a month for 1 website,
$29.75 a month for 5 websites and
$58.10 a month for 10 websites.
These prices are only correct as of June 27,2020. I do not know if/when DashNex will change their prices, so don't scream at me if the prices you see are slightly different.
If you have any questions about features, I'll be happy to have a look if I can find them in the product. 👍