WordHero Review AI Content Generator: WordHero is the latest in a number of AI tools that have been released recently. It uses GPT-3 AI technology to create unique content based off the inputs that you provide. There's not much info currently available, so I took for a test-drive to see what it can do. This WordHero review will look at all the features that this tool provides.
If you're new to AI content generator, then please check out this article to find out more:
Ultimate A.I. Content Generator Tools List Ranked Best to Worst
At first glance, WordHero wasn't drawing me in. The website is very barebones, there's no trial to test it out, and I could not find the About Us or Help section to get more info about the product. However, on the WordHero Roadmap, I did see that there was active development being made, and decided to give it a chance.
Well, I'm glad I did.
Unlimited AI Content Generators are very hard to come by these days, and understandably so. GPT-3 queries can be quite expensive and an unlimited plan will not be sustainable over the long-term. WordHero clearly states that its unlimited plan ($10 discount for new Appsumo accounts through this link) will only be for the early adopters, and it will be subscription-based in the near future.
Update 16 Oct 2021: WordHero has now added a long-form editor, so you can now write a section, then click "Write More" to have the A.I. add on additional sentences following your cues.
How Is WordHero's Content Generation?
From my usage over the last few days, it's pretty darn good! Some tools are significantly better than others, so it will depend on what you're after. My only option for a unlimited AI Tool at this point was Nichesss, but I was unhappy with its content (it's good, but not great). Nichesss' UX needs a lot of work and I haven't seen any recent updates on when this or any other features might be released. So I was pleasantly surprised when WordHero came on the scene and started doing everything Nichesss wasn't.
Related: How To Use A.I. In Your Business
Firstly, the content generation is pretty good! It's not as great as something like Copy.ai but it is a bit better than Nichesss. It fits into that category of good but could be great in the future. Things in AI move very fast, so I'm sure that we'll be seeing a lot more about WordHero very soon.
So, let's take a look at some outputs…
---
I asked WordHero to write me a BLOG INTRO on: What is AI Generated Content?
The outputs was:
I thought this paragraph was excellent and very usable
---
I asked WordHero to write a PRODUCT DESCRIPTION for the Amazfit T-Rex Smartwatch:
The outputs was:
You will love this watch. It's tough, it's long lasting, and it's waterproof. It is military certified to withstand the harshest of conditions, and it has a long battery life.
Definitely not the best description. It's accurate, but very simple and way too short
---
I asked WordHero to write a BLOG OUTLINE on: How to Build Muscle Fast
The output was:
II. The benefits of building muscle
III. What to eat: protein, carbohydrates, and fat?
IV. How much should you eat?
V. Tips for healthy eating
VI. Working out: how often and how hard?
I thought these were good subtitle options and very targeted
---
I asked WordHero to write me a VIDEO DESCRIPTION on: How to Learn to Play the Guitar Easily
The output was:
The easiest way to learn how to play the guitar is by watching these instructional videos. Watch them for a few minutes each day and you'll be playing like a pro in no time!
I thought this was a good, but basic, description. It's a little too simple, but it's direct and on target.
---
I'm quite happy with the content that it provides – especially for this ridiculously low price. Some sections generate better text than others, but they are all sentences that make sense, have good spelling/grammar and relate directly to the source input. My hope is that the outputs will become more advanced with future updates. Be sure to return to this WordHero review for more updates.
What Tools Are Available?
In the below images, you will see the tools that are currently available.
The UX needs a little work, but the developer already has a beta version running, that is almost ready to go.
Update: The entire look has been updated with a new UX, new icons, logo and features.
The look is much cleaner and allows for the pinning of your most used tools to the top section. You also have an area to copy your texts to, to make changes/rearrange them to form your articles in one place.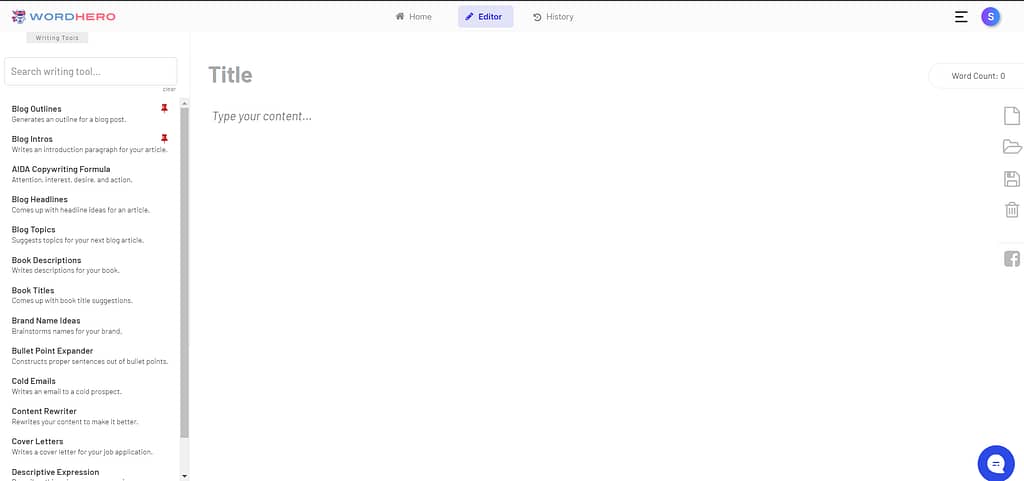 Alternative to Wordhero
The closest competitors to WordHero are Peppertype, Nichesss and Writecream. Peppertype had some of the best content when they first appeared but it seems like very little work has been done on it since. Nichesss has improved as well with their new long-form templates. I quite like Writecream's complete article creator and that they allow you to make your own tools. WordHero still has some of the fastest development.
WordHero Review: My Thoughts
After digging through their Facebook group, I realized that the reason the website is so sparse, is because the developer is putting every second into making this tool great! I doubt there will be a trial version any time soon, as he is laser-focused on adding features and fixing bugs. There's still a lot of work to be done, but the foundation is there and it works well. Features are being added at lightning speed, so I have no doubt that this tool will continue to improve with each passing day. I'm betting on the developer here to keep improving this tool and I look forward to what it will evolve into over the coming months.
Edit: It's been a few months since I started using this tool, and it has improved considerably. This software has now completely replaced my other content creation tools for blog content. Their new Blog Paragraph tool creates excellent paragraphs for any subject. The suggestions for intros, outlines, descriptions and titles has also improved significantly.
WordHero helps writers, copywriters, and bloggers to create better content and reduces the time it takes to do so. There is very little need for editing or proofreading. It's easy to create posts with WordHero without worrying about plagiarism. Their variety of tools makes ranking your blog posts easier than ever.
At the time of writing this review, WordHero is currently available on Appsumo with an unlimited lifetime deal. By going through our link, you'll get a $10 discount (please note: this is only for new Appsumo accounts).