Voila Review: Voila is a GPT-4/GPT-3.5 Turbo-based browser extension for Google Chrome, Mozilla Firefox, Microsoft Edge, Brave, and any other Chromium-based browser. It lets you quickly access the power of AI from within any application. This means that you're only just a shortcut away from professionally written and error-free copy.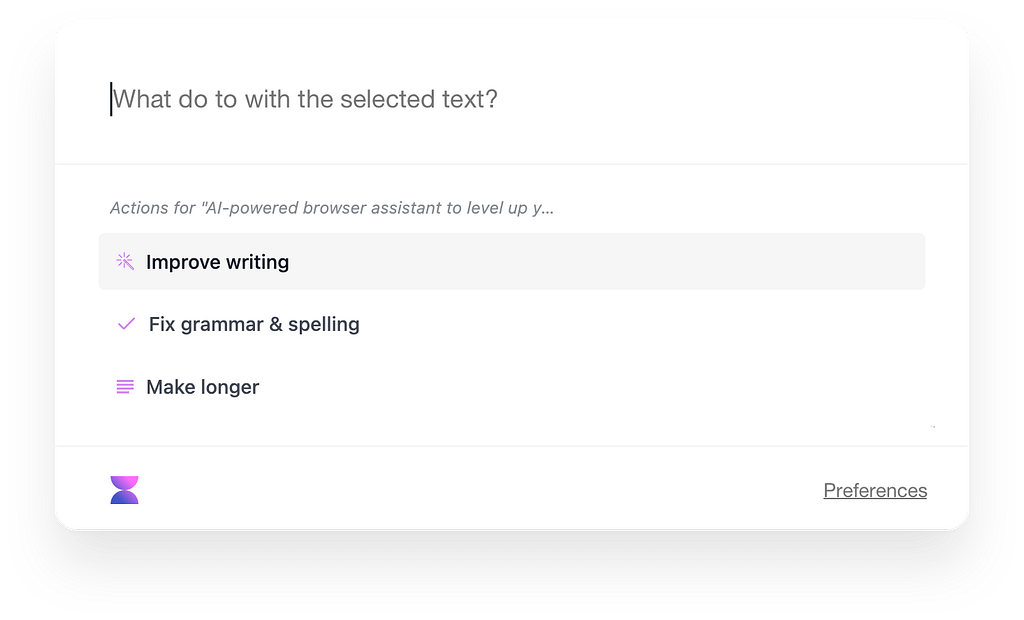 How Does it Work?
Voila can be accessed by clicking on the extension icon, right-clicking on text, or using a shortcut (default is Ctrl+M). From the popup, you simply ask it to create content in a conversational way. Ask it to write a blog post for you, and it'll create a beautiful article in a matter of seconds. Need it compose an email for you? Voila can quickly generate a professional email using your choice of GPT-4 or GPT-3.5 Turbo.
If you highlight text before pulling up the extension, it will give you a quick list of actions that you can use on that text:
Improve writing
Fix grammar & spelling
Make longer
Make shorter
Simplify language
Summarize
Translate
These are just some quick shortcuts you can use to improve your text, but you can also use the input box to ask for anything else. Perhaps you want to use similar text in your next email – simply let Voila know that and it'll take care of the rest.
Preferences
In the preferences section, you can choose whether you'd like to use GPT-4, GPT-3.5, or let the tool automatically choose depending on the question asked. You can also choose whether you want a reminder popup showing your shortcut key to open Voila, and the option to switch off prompt suggestions. If you prefer to simply chat with Voila about what you need it to do, then Prompt suggestions aren't necessary.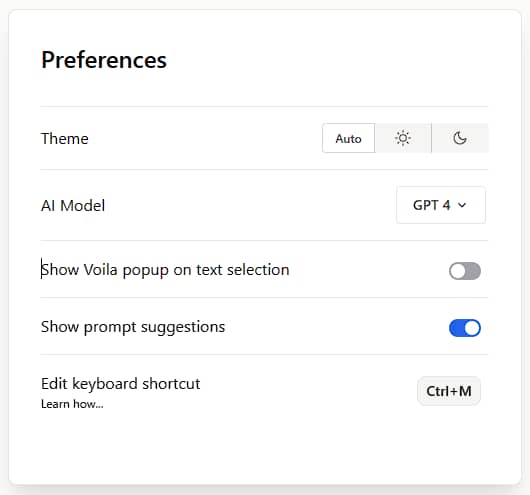 Gmail Integration
Voila has Gmail integration in the Compose tab to quickly help you create emails. You'll find the icon next to send button to bring up a specialized popup.
The popup is similar to the standard Voila one, except that you can now choose the tone of voice that you would like to use in your email. This makes it easy to switch between professional and more casual emails in an instant.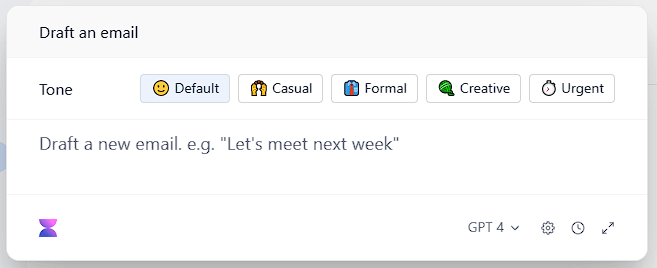 Regardless of how you access Voila – if you highlight any text before calling the popup, it will automatically use that highlighted information as a base for its reply. For example, if I highlight all the text of an invitational email sent to me – I can simply write the words "reply saying yes" and Voila will create a professionally written reply that includes the sender details, a mention of some of the details in the email, your positive response, and signing off with your name. This makes replying to emails take only a few seconds to complete.
Chat History
Your chat history is stored for 30 days before being wiped from the servers. Your text and conversations with Voila are also never stored for training purposes. Voila processes then forgets any text sent through it. They clearly state on their website that they do not collect any other data without us giving permission.
Custom Actions
You can also use the Custom Action menu to setup shortcuts for future usage. For example, you can write a detailed explanation about what details you would like to include in every email you send out. Whenever you choose that action from the popup, it will automatically fill your instructions into the prompt field to save you time on rewriting everything.
You could also use these actions to prime the AI and have it act as a specific professional. For example, you can pre-fill a prompt telling the AI to act as a life coach, a social media manager or an essay writer – and then ask the AI any questions that you may have for someone in that profession.
Voila Review
Voila is a great tool for quickly accessing GPT-4 at a low price point. It's more beneficial now as most people do not have access to the GPT-4 API yet. There are some areas that do need some attention. The standard premade actions are very basic. I would love Voila to add more advanced prompts instead of having to create them all myself as Custom Actions.
A lot of the features such as email creation and blog writing can be accessed for free using Bing Chat, so Voila does need to add more prompts and integrations to remain relevant. If you've used Bing Chat then you'll know that it can be easily accessed from the Edge browser as a permanent extension. However, it has limited output and options.
Voila gives you a lot more freedom on the type of content you can create. You can use it for more than just emails and blog posts. You can also use it to help write your fiction novels, write song lyrics, and even translate text.
Its main feature is still the Custom Action tool though. With the right prompts, you can quickly have Voila complete complex tasks for you according to your instructions. If you regularly need to write complex emails or other text, and want a tool that can generate it for you, in seconds – then you should definitely give Voila a try.
???? Get it here: Voila