Top ChatGPT Alternatives for Every Purpose: ChatGPT is an AI chatbot that's designed to provide users with information about a wide range of topics. It can write blogs, research topics, summarize websites, write resumes and cover letters, and even program software.
ChatGPT has been a game-changer in the AI industry. It's highly accessible and allows anyone to simply ask it to create content without the need to use a specifically trained tool. Ultimately, this makes it easier for people to communicate with computers. The quality of the content provided is also top-notch.
ChatGPT runs on GPT-3.5 and GPT-4, however, if you're using the free version – you'll find that the servers are often too busy to handle your queries. You can subscribe to ChatGPT Plus for $20 a month to get access to this tool even when server use is high, or you can try out some of these great alternatives which have additional features that ChatGPT does not.
Ideal for content creation with current results
Chatsonic is one of the best and cheapest ways to gain access to quality AI content. It gives you access to GPT-3.5 as well as GPT-4. However, unlike ChatGPT, Chatsonic can access the internet and give you current results. ChatGPT works using data up to 2021, so depending on your industry, you may lack some critical info.
Chatsonic allows you to either type your questions or use your microphone and speak to your AI. It's a very natural approach to getting information.
The most standout feature of Chatsonic is its library of premade Chat Prompts. A few of these prompts include:
Rewrite to Pass AI Content Detection
SEO-Optimized Article
Outrank Article/Blog
By using pre-made prompts, you get a high-quality prompt to prime the AI before asking it to create content. This results in higher quality output every time.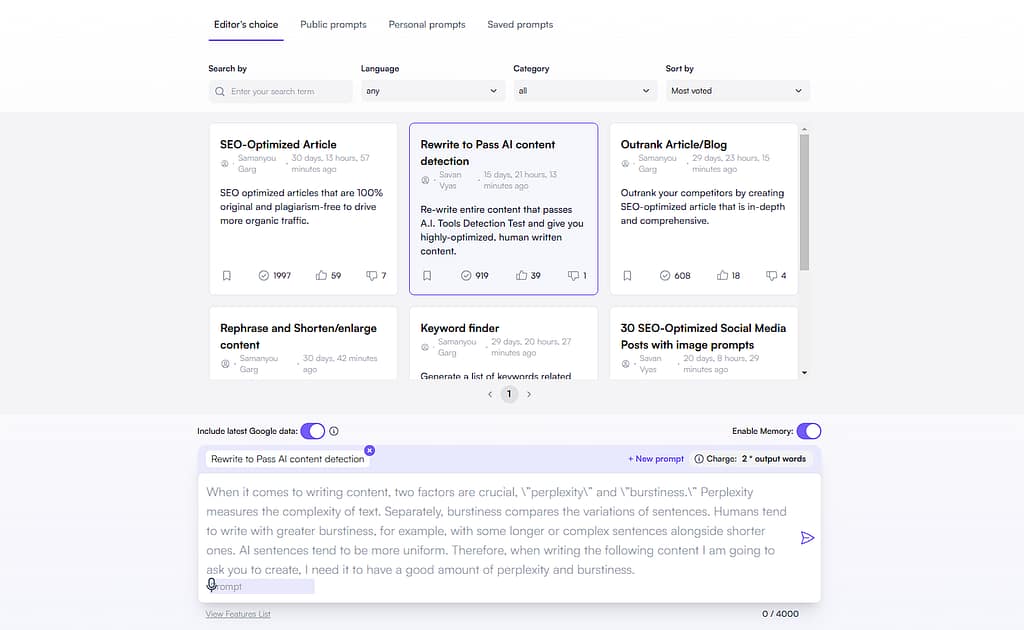 You can use Chatsonic in your computer's browser, as well as on your Android device – so you can get work done while on-the-go.
As well as the chat features, you also have a selection of pre-trained models that you can use for specific tasks, and even an AI image generator.
Chatsonic has a free trial (no cc needed).
The paid plan starts from as little as $13 a month.
Ideal for content creation with current results and for long-form content
Copy.ai is one of the most popular AI tools on the market. They've consistently maintained an excellent balance between quality and price right from the start.
Their new Chat AI also connects to the internet, providing accurate information for all your projects. Copy.ai also has over 90 templates to choose from when looking to create very specific information.
It's an all-in-one tool that keeps it pricing structure reasonable regardless of new advances in the AI industry.
Copy.ai has a free trial (no cc) that you can test out all of these tools for yourself.
Their paid plans start from $36 a month.
Ideal for research and creating short-form content
Bing Chat is one of my favorite tools to play around with. You can pull information from the internet without having to deal with popups or overly-long text.
The input section only allows for 2000 characters, so you cannot give it overly long requests, but for what it's there for – it's quite good. Bing Chat runs on GPT-4, so you're getting quality content every time.
You can also use Bing Chat to create emails, blog posts and ideas – using their Compose tool.
Bing Chat is free to use.
Ideal for research and creating sales and marketing content
Jasper is the most well-known AI tool on the market. They have recently introduced their own Chat AI to their quite of tools to make content creation even easier.
Jasper Chat is more built for business use. If you're in the sales or marketing industry, then you may want to give Jasper Chat a look.
Jasper Chat runs on GPT-3.5, so it's information will be based on mid-2021 and earlier. However, the quality of content in Jasper has always been exceptional.
Jasper Chat is available for free on the Boss and Business plans.
Plans start from $59 a month.
Ideal for testing out content creation ideas
Bard is Google's answer to ChatGPT. Unlike the other tools on this list, Bard does not use an API from OpenAI but is a completely unique AI. It's powered by a lightweight model version of LaMDA.
Google Bard is not yet near as advanced as GPT-3.5 or GPT-4, but as with all Google products – they can be improved very quickly.
Google Bard is available for free via early access in selected countries.
If you're looking for a way to write full-length novels with AI, then Sudowrite is your best option. It has a feature called Story Engine which helps the AI to slow down and give more details when writing. AI tools have a habit of trying to rush to the end of the story right out of the gate. With Sudowrite – you put in all the details of your book – genre, characters, story beats, writing style, etc. and Story Engine will create complete chapters for you including gorgeous dialogue.
ChatGPT: A Game Changer for AI
There are a ton of interesting ways to utilize ChatGPT and its alternatives in your personal in business life. ChatGPT can do amazing things like create complete essays, as well as smaller tasks such as writing beautiful birthday card messages.
The options you have are endless with a bit of imagination. ChatGPT is not just a passive responder, but an active conversationalist that can ask questions, make jokes, tell stories, and generate creative content. ChatGPT is also adaptable and customizable, as it can learn from the user's feedback and preferences, and adjust its tone, style, and personality accordingly.
ChatGPT is not only a game changer for AI, but also for human communication and interaction. ChatGPT can be a friend, a teacher, a coach, a mentor, or a partner for anyone who wants to have a meaningful and enjoyable conversation. ChatGPT is the future of chatbots, and the future of AI.
If you haven't tried out ChatGPT or one of its alternatives, then you're putting yourself at a disadvantage.