Free SVG Files for Cricut: Die-cutting machines are the perfect tool for all of your craft projects. Whether you're looking to create items for sale or for your personal enjoyment – there's a machine made for you. There are lots of websites that you can get free SVGs from, but they don't always have the best quality and selection.
So if you need quality free SVG files for your Cricut Joy, Maker or Explore Air 2 models – then you're in the right place.
Best Places to Download Free SVG Files for Cricut Machines
Creative Fabrica
Creative Fabrica regularly tops my list when it comes to free craft supplies. They have a massive marketplace of graphics, fonts, crafts and classes. They also give away thousands of free craft supplies each and every month. They continually add new supplies to the list, so you'll never be short of free SVG files for your Cricut machine.
Along with all these free SVG files for Cricut, you'll also get access to free images for t-shirt design usage, access to a bunch of free sewing designs, and even free craft instructional videos.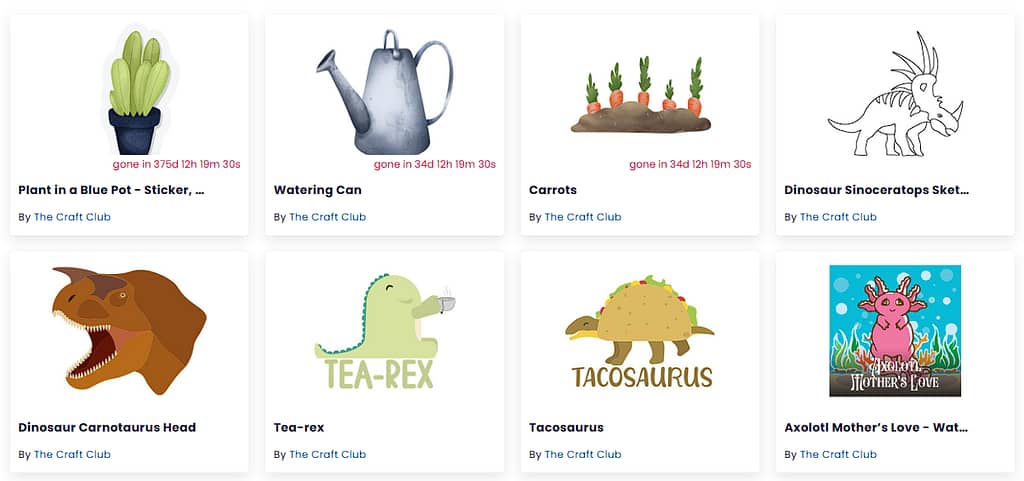 Design Bundles
Design Bundles has a huge collection of SVGs that are specifically made for Cricut die-cutting machines. Design Bundles sells a lot of their SVGs in large collections, so you can get access to a ton of designs that are all grouped together in a specific theme.
Design Bundles also gives away lots of free high-quality designs. Their website has a wide range of free SVGs for every craft project. You will definitely find something to fit your needs on this handy site.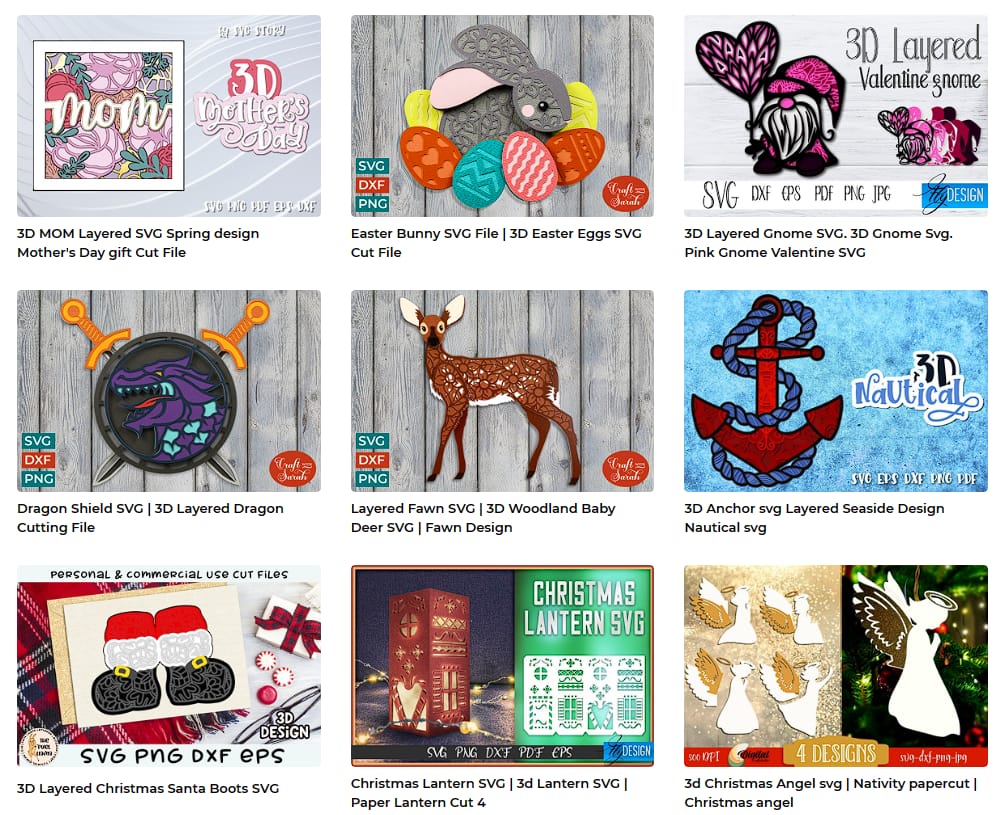 Dreaming Tree
Dreaming Tree has some incredibly beautiful SVGs that can be used to make quality 2D and impressive 3D items. Their categories range from simple banners to amazing wedding decorations. If you're looking for something truly unique, then you'll definitely want to give this site a look.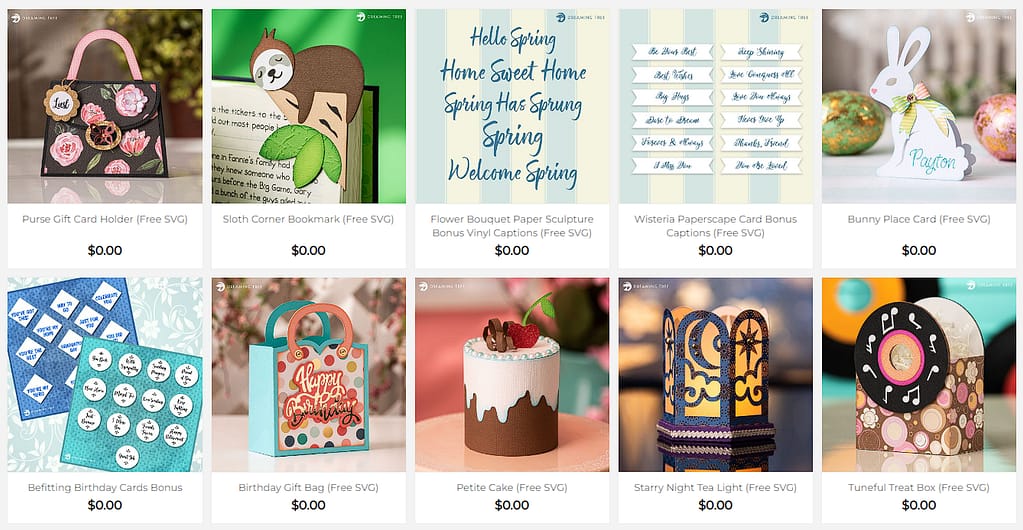 Bird's Cards
Bird's Cards is something special. When you're looking for anything card related, then this website should be your first stop. They have beautiful and intricate card designs for every occasion. You'll also find some cute envelope designs, frames, and even some decorations for Halloween, Thanksgiving and Christmas.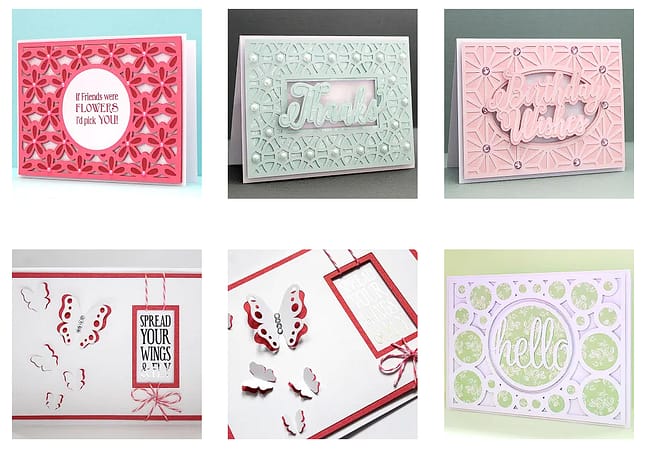 Simply Crafty SVGs
Looking for extraordinary SVGs? Check out Simply Crafty SVGs! Their SVGs are anything but simple. They have lots of free designs that you can't find anywhere else. Looking to make a 3D Easter Egg Basket? They've got you covered with a free SVG, a list of all the products used, as well as a YouTube video detailing exactly how to put it together.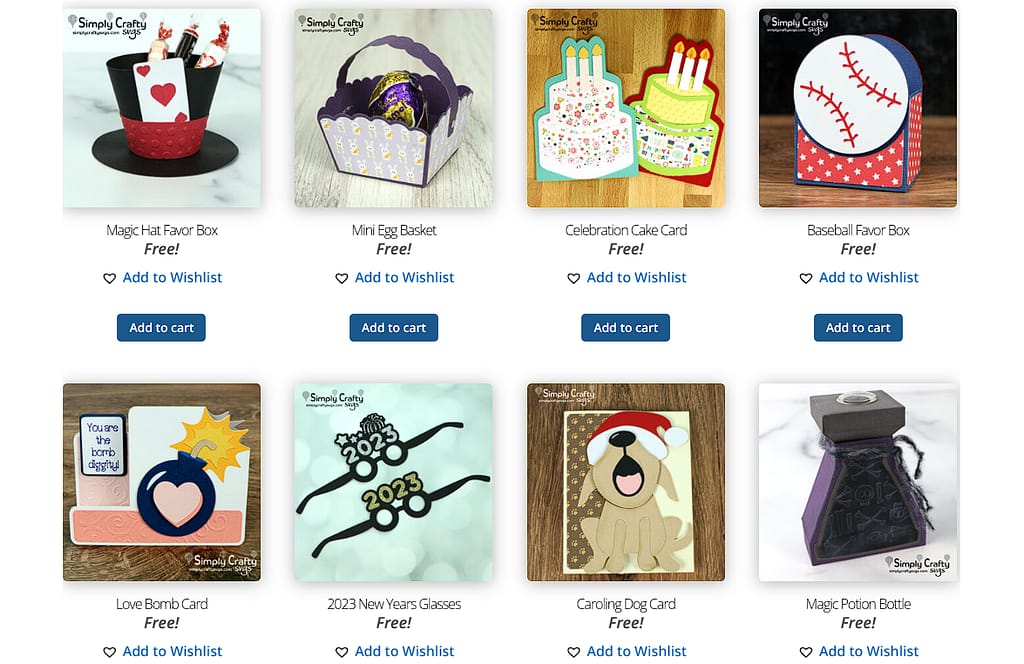 Smaller SVG Sites
Free SVG Designs is a great resource if you want lots of text designs. These are usually based on a holiday or special occasion. Free SVG Designs has a ton of free designs that are available for personal use only.
Love SVG also has tons of text designs that are either inspirational or based on special occasions. You could spend all day going through their massive catalog of free SVGs.
Craftables has some cute, simple SVGs for your craft projects. They may be simple, but they're also high quality.
SVG Designs has a ton of free SVGs but you can only download 3 for free each week. So choose carefully.
Sherky Designs has a small collection of SVGs available for download, but they're pretty interesting. They have designs for invitations and parties that really stand out.
Compatibility
These SVG files will work with most (if not all) die-cutting machines. I'll list the most popular ones that they work with. For other machines, you'll need to test them out for yourself.
Die-cutting Machines
Cricut Maker
Cricut Explore Air 2
Cricut Joy
Silhouette Cameo 4
Silhouette Portrait 3
Differences Between Cricut Maker, Cricut Joy and Cricut Explore Air 2
Are you in the market for a new Cricut machine, but feeling overwhelmed by the different models available? In this post, we'll break down the differences between three popular Cricut models: Cricut Maker, Cricut Joy, and Cricut Explore Air 2.
Size and Portability
The Cricut Joy is the smallest and most portable of the three machines. It's designed to be compact and easy to take on the go, with a cutting width of up to 4.5 inches. The Cricut Explore Air 2 is a bit larger, with a cutting width of up to 11.7 inches. The Cricut Maker is the largest of the three and also has a cutting width of 11.7 inches, and the ability to cut thicker materials.
Cutting Force
The cutting force of a machine refers to the amount of pressure it can exert on the material being cut. The Cricut Joy has the lowest cutting force of the three machines, at 210 grams. The Cricut Explore Air 2 has a cutting force of 400 grams, while the Cricut Maker has the highest cutting force at 4,000 grams.
Materials
All three machines can cut a wide variety of materials, including vinyl, paper, cardstock, and fabric. However, the Cricut Maker has the most versatility when it comes to cutting materials. It can cut materials up to 2.4mm thick, including leather, balsa wood, and even some metals. The Cricut Joy and Cricut Explore Air 2 have more limited capabilities in terms of the thickness of materials they can cut.
Cricut Maker vs Cricut Joy vs Cricut Explore Air 2
Choosing the right Cricut machine depends on your specific needs and preferences. If you're looking for a machine that's portable and easy to use for smaller projects, the Cricut Joy might be the best choice for you. If you're interested in cutting thicker materials or want a wider range of tools and accessories, the Cricut Maker might be the way to go. And if you're somewhere in between, the Cricut Explore Air 2 could be a great choice. No matter which machine you choose, you'll be able to create all sorts of amazing projects with your Cricut machine!
Benefits of using SVGs
There are several benefits to using SVG files for Cricut:
Scalability: SVG files are vector-based. This means that they can be scaled up or down without losing any of their quality. This makes them perfect to use with Cricut machines – as they can be resized to fit any project without becoming pixelated or blurry.
Compatibility: SVG files can be used with a variety of design software and Cricut machines, making them a versatile and widely accessible file format. They can be easily imported into Cricut Design Space or other design software, allowing for seamless integration into your crafting projects.
Efficiency: SVG files are much smaller in size compared to other image formats. This means that they take up less space on your computer. This makes them ideal for use with Cricut machines, which require a high level of processing power and memory to operate effectively.
Customization: SVG files can be easily customized and edited, allowing you to change colors, add text, or modify the design to suit your project. This flexibility makes SVG files an excellent choice for anyone who wants to create unique and personalized designs with their Cricut machine.
Using SVG files for Cricut offers a range of benefits, from scalability and compatibility to efficiency and customization. Whether you are a seasoned crafter or just starting out with your Cricut machine, SVG files are an excellent resource to add to your toolbox.
Tips for creating successful SVG Projects with a Cricut Machine
Here are some tips for creating successful SVG projects with a Cricut machine:
Choose the right SVG file: Look for SVG files that are designed specifically for use with Cricut machines. These files will typically have the appropriate cut lines and layers that are compatible with Cricut Design Space.
Clean up your design: Before uploading your SVG file to Cricut Design Space, make sure to clean up any unnecessary elements or layers. This will help simplify your project and ensure that it cuts correctly.
Use high-quality materials: Choose high-quality materials, such as vinyl or cardstock, for your project. This will help ensure that your design looks professional and lasts longer.
Test your project: Before cutting your final design, it's a good idea to do a test cut on a small piece of material. This will help you identify any issues with your design or settings before committing to a larger project.
Follow instructions carefully: Make sure to follow the instructions provided by your SVG file and Cricut machine carefully. This includes selecting the right material, adjusting blade settings, and following the correct cutting order.
Practice, practice, practice: The more you use your Cricut machine, the more comfortable you will become with creating and cutting SVG projects. Don't be afraid to experiment and try new techniques to improve your skills.
Overall, creating successful SVG projects with a Cricut machine requires attention to detail, patience, and practice. By following these tips and taking the time to perfect your skills, you can create beautiful and professional-looking designs with your Cricut machine.
Top 10 Free SVG Files for Cricut Maker/Joy/Explore Air 2 Sites
SVG files are a fantastic resource for Cricut users regardless of the machine you choose to use. There are plenty of websites out there offering free SVGs, but it's important to find and use high-quality designs in your projects.
Whether you're looking to create beautiful home decor, personalized gifts, or unique clothing, there's an SVG file out there that can help you bring your vision to life. We've highlighted some of the top free SVG file websites for Cricut Maker, Joy, and Explore Air 2 users, but these SVGs will likely work with whichever machine you have. And as they are free – it won't cost you anything to test them out. With these resources at your fingertips, you can unlock your creativity and take your Cricut projects to the next level. So why not start exploring these sites today and see what amazing things you can create.