Symbolt Review: Easy Brochure Design Software – Symbolt makes it easy to create brochures and other marketing material, and share it with your clients instantly. They'll be able to change text in your designs, but will not be able to mess with the graphics or structure of it. This ensures that your client cannot break your design, and it will always look the way you intended it to.
I should let you know upfront that I have tried and failed to use InDesign many times. I find the UI confusing and I tend to mess up my own designs. However, with Symbolt – I can create beautiful designs with ease. Think of it as the Canva of brochure creation. Canva itself is a great tool that I've used to create brochures with before. However, with Canva – clients are able to mess with your design, and you need to use different templates for single and 2-page designs.
This Symbolt review will show you how you can use this software to make amazing designs, and limit the amount of editing that a client can do.
Symbolt Features
1. Templates
Symbolt has a few templates available to get you started. You'll more than likely want to create your own designs from scratch, but the templates do you give you an idea of what you can achieve with this software. Each template will have a front cover, a few pages showing various designs, and a back cover. You can simply swap out some headings and images, and have a working design ready to show in a few minutes.
There are templates in various niches, so you can test out professional-looking designs, as well as more artsy ones. Each template also uses different text elements. These could be large number and small text (see example) or multi-columned paragraphs.
You can also save any one of your designs as a template – which can be used for future projects.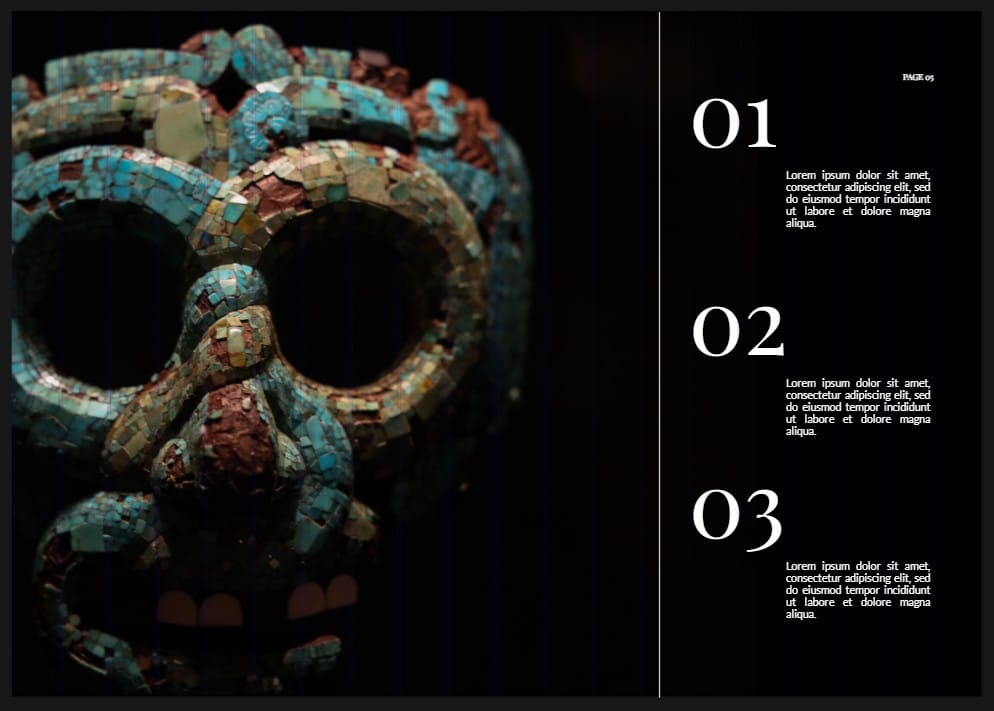 2. Interface
Symbolt lets you drag and drop items into place to create your designs. It has excellent guidelines that help you place text and images in exactly the right spot. Lots of tools mess up these guidelines. Canva is one of the few that does it the right way, and Symbolt does it even better. For photos – Pixabay and Unsplash are integrated, so you can easily find pictures to use, or upload your own.
Symbolt automatically marks the center area between 2 pages, and marks where the gutter is. This makes it easy to arrange text in larger projects, to avoid having text hidden in the crease.
The right side of Symbolt gives you tools to help you perfectly align text and images. You can also add Fill (color), Stroke and Shadows to your text. On the left, you'll find drawing tools to make boxes and other shapes – that will make your designs stand out.
All in all, the UI is extremely simple – almost too simple. And yet, I quite like it. I don't need to sit and watch YouTube videos or memorize shortcuts to make my designs. It just works.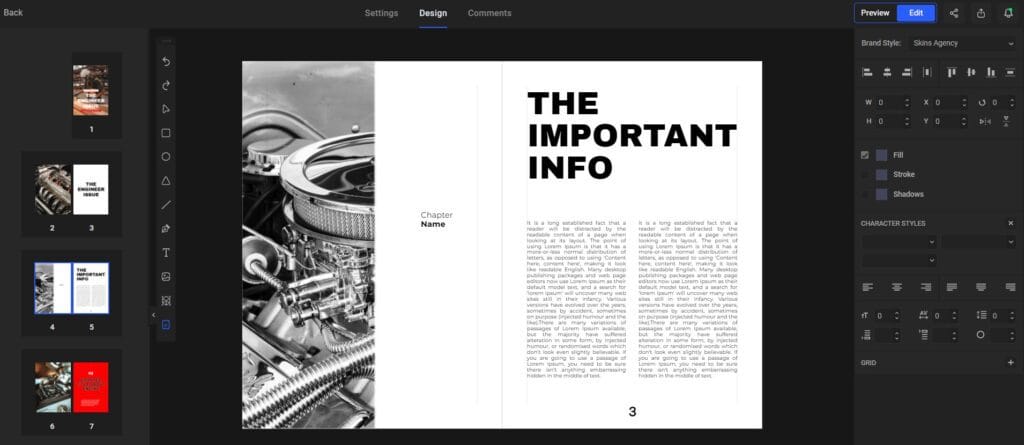 3. Sharing
You can add your client's copy to your project by uploading a Word document, and then choosing a template. This will insert additional pages into the design – with your text now matching the style of the template. However, I found that copying and pasting text into the software worked much better, as I had better control over line breaks.
The main selling point of Symbolt is that you can share your designs with clients to allow them to edit text without being able to edit your design. This gives you full creative control over the look of your design and prevents clients from breaking it by moving assets out of place. Whenever you shared a design, you can choose how much access they are given. You do this by choosing whether the recipient is a designer, a client, or an editor. Clients, of course, will be able to edit only the text.
Once someone has access to a design, they can make changes on their end or leave comments. Comments will mostly be left by clients to ask for small changes to made to the underlying design, ie. color changes, text columns, etc. These comments can be placed directly onto text and images. This makes it easy to see what your client wants changed without an in-depth explanation.
If you want to download your design – it can be exported as a PNG, JPF or PDF.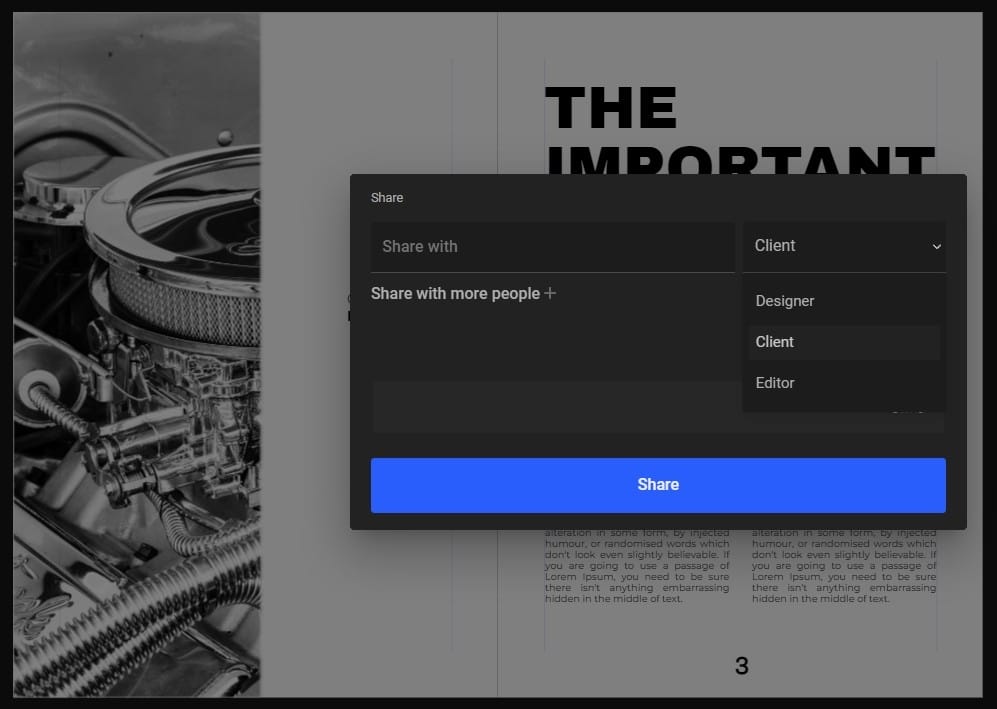 Symbolt Review: Conclusion
If you're looking for a simple way to design quality brochures and related designs for clients – then Symbolt is for you. It gives you all the tools you need to make amazing looking designs without needing to learn any difficult software. You also have the ability to create a complete design using dummy text and hand it off to your client to add the text themselves, if they prefer. It fits in the gap between Canva and InDesign – being both easy-to-use and having the right tools for the job.
There are some interesting additions on the roadmap that I'm looking forward to, such as video integration for social media exports and a more advanced editor. I think Symbolt will continue to grow into an amazing tool, if they keep their focus on simplicity.
You can find Symbolt here.