Linksy is a WordPress plugin by Plugli that uses Natural Language Processing to create quality links between your posts. It gives you an easy way to see which articles don't have internal links and gives you the tools to create those links within seconds. This is a quick overview of what Linksy is able to do and what my experience with it was like.
Let's take a look at the features of this tool:
Settings
Linksy has a lot of settings that you can set up to make your link creation easier. You can choose how many words you'd like to skip before adding links, and the maximum number of outbound and inbound links to your articles, as well as choosing if you only want to link to newer articles. A very useful setting is the prevention of two-way linking. This means that you won't have a bunch of articles sending links back to each other – which can look spammy to search engines. This means that if Article 1 is linked to Article 2, then when you go to add links to Article 2, it will remove Article 1 from its list of suggestions.
These are general settings for all of your posts, but you can also choose individual settings for specific posts. The individual post settings will override the general settings.
The great thing about this tool is that it edits the actual WordPress posts to add each link, so if you someday decide to uninstall the plugin – all your posts will remain linked.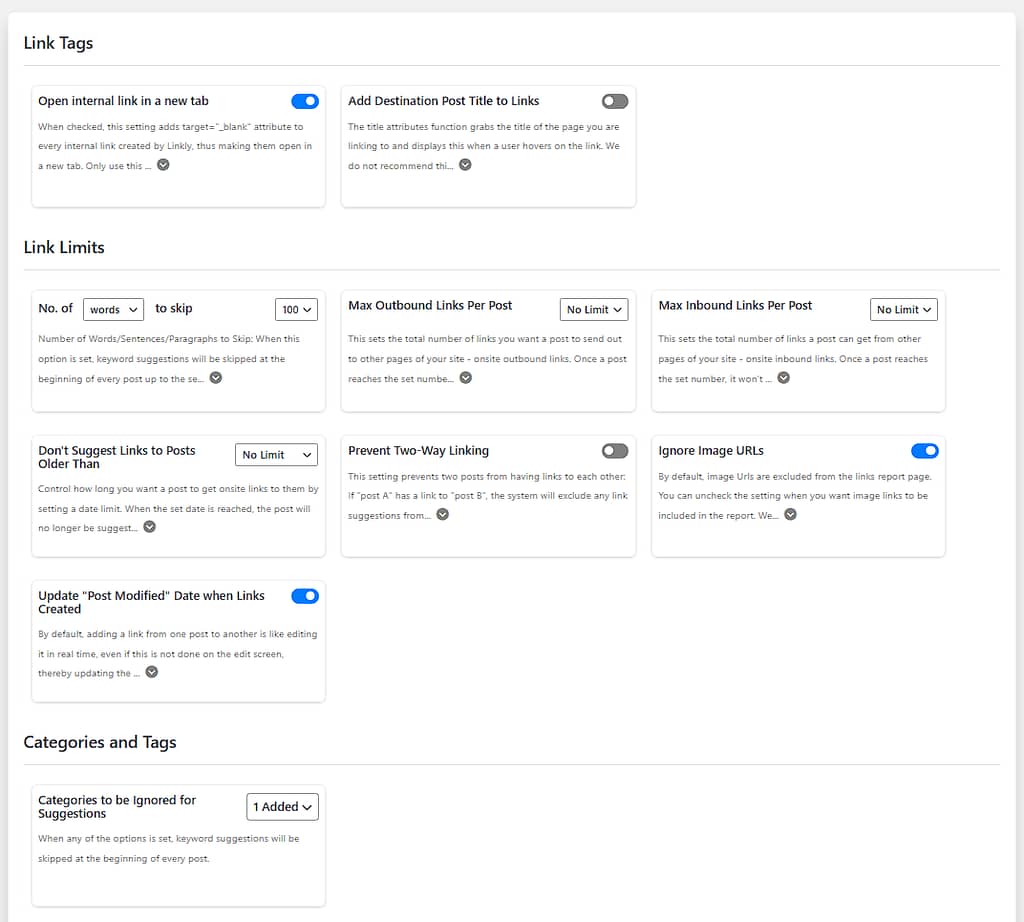 Dashboard
On the Linksy dashboard, you can see how many posts and links you have. It clearly shows you how many inbound, outbound and external links you have as well as the quality of your link text. This gives you a clear indication of how much work needs to be done to optimize your site.
From the dashboard I can already see that my linking strategy has been insufficient up to this point. It shows that I have 118 articles that have links pointing toward them. There's also a keyword rating metric that shows me that 73% of my links are really good, while the others could use some work. These metrics are very useful in helping to take your articles to the next level SEO-wise.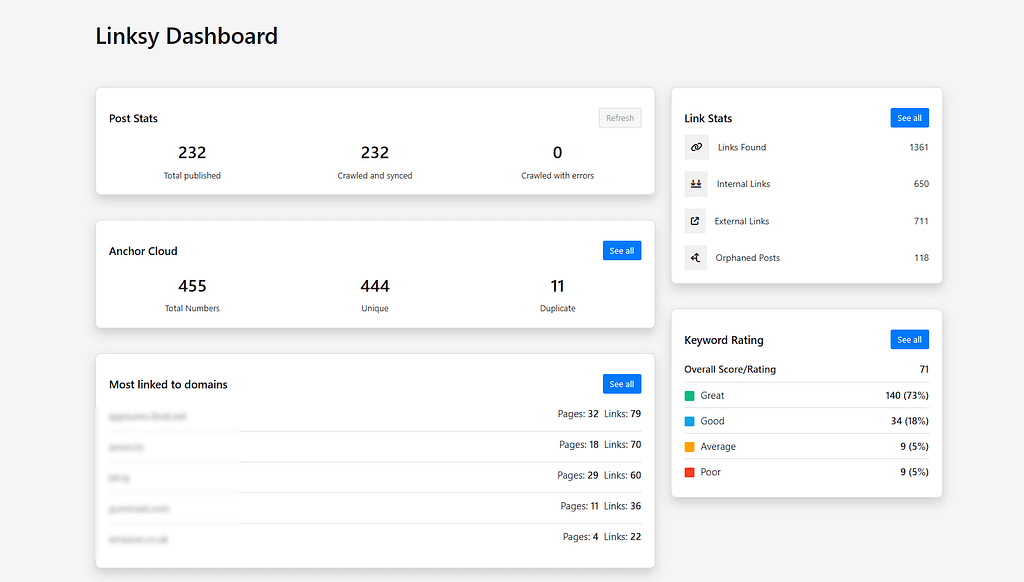 Reports
The reports section lets you quickly find links that are not performing well, and fix them. All your articles are listed and you can filter them by – post type, category, published date, word count, number of inbound links, number of outbound links, and number of external links. If you want to find articles that have no links to them, you can quickly click on the Orphaned section to pull up the full list of articles without any links.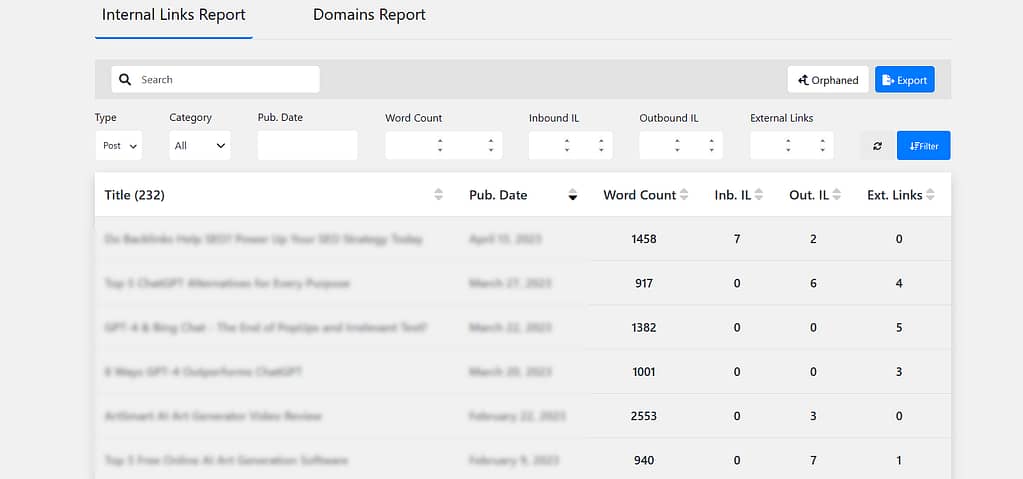 Add Inbound Links
This is one of the main features of this tool. You can use this tool to bulk-add inbound links to your articles. You simply search for the post you'd like to edit, and it will give you a breakdown of the inbound, outbound and external links that are currently in it.
You will then be provided with a list of suggested articles to link to, as well as the link anchor that will be used. Every link anchor is given a score out of 100, so you know how good that link anchor is. Linksy uses NLP to find the best-suited keywords for every article. This means that you can add multiple inbound links to any article in a matter of seconds.
To speed things up even further, you can also use the Quick Apply button that will instantly take the top link choices and add them to your articles. You can choose how many links you would like to add, and let Linky take over. I'll probably wait a few weeks before I start using the Quick Apply feature as I want to continue testing the quality of the link choices for the time being.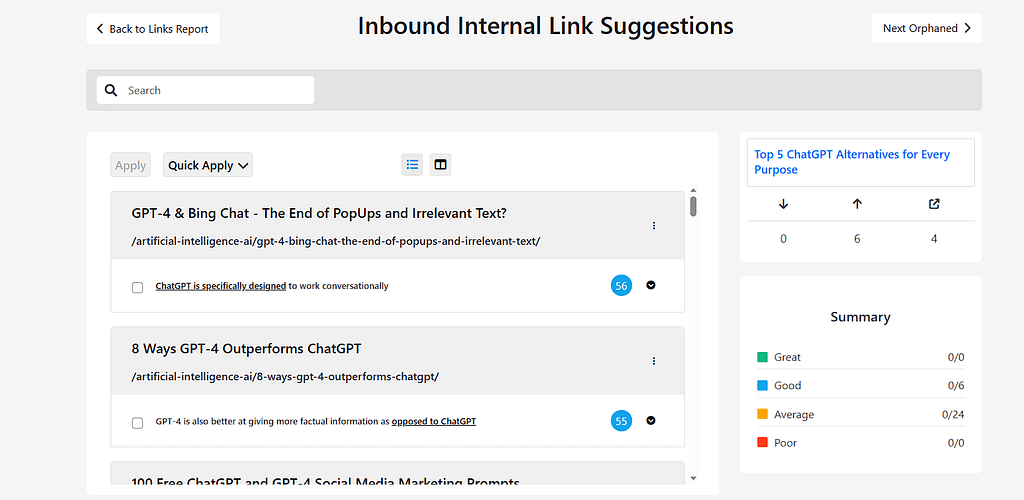 Add Outbound Links
You can also add outbound links from any post. Within every post, you'll find the Linksy widget in your sidebar which you can use to see a list of suggested outbound links. They are all scored on how good Linksy thinks they are, so you can quickly spot which ones will work best for your article.
You can simply need to click on your chosen links to have them added to your article. In this way, you can find and add suggested links to every article in a matter of minutes.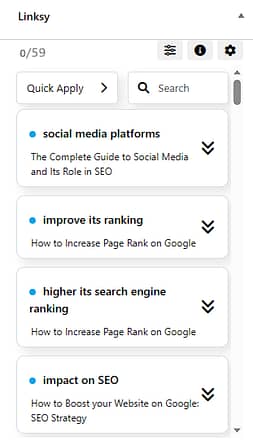 Anchors Cloud
Anchors Cloud is similar to Reports but instead of listing your articles, it lists all of your text anchors and the articles that they point to. You can use this tool to find duplicate links, as well as see each of your links rating out of 100.
As SEO rules have evolved over time, there's a very good chance that you have some outdated link strategies in play, that you can easily spot and fix using this tool.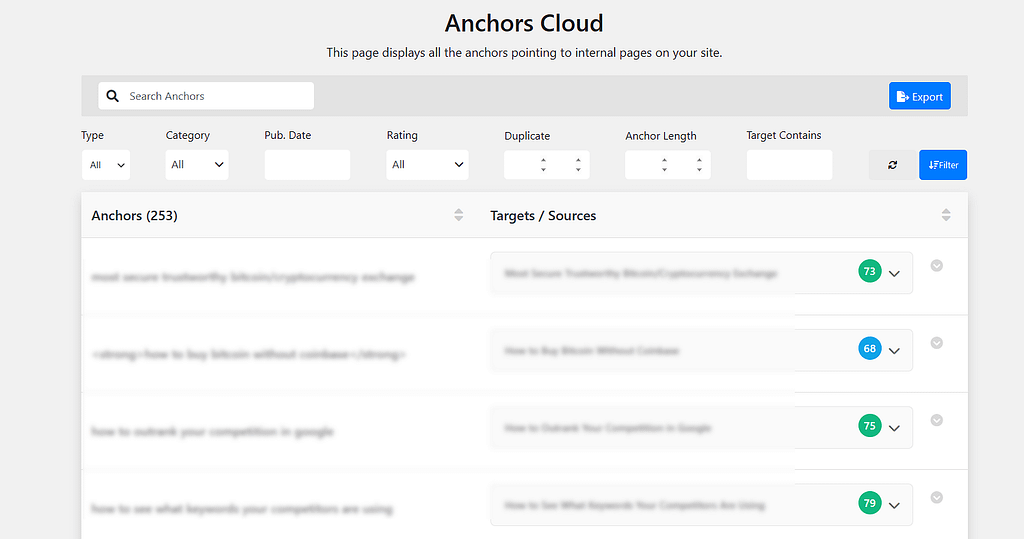 Keyword Rating
The Keyword Rating tool lets you check how well-optimized each of your articles links for a specific keyword. You can type in a bunch of keywords and Linksy will use NLP to determine if the keywords you've chosen satisfy the searcher's intent. Then, it's just a matter of editing your underperforming links to make them better fit your article.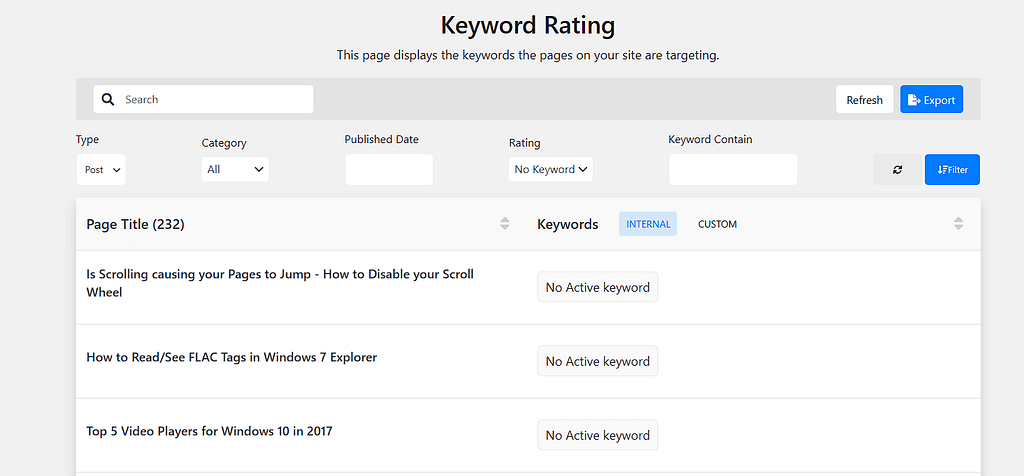 Playground
The final tool is called Playground. You type in a specific keyword and Playground will show you every post that has content related to that keyword. You also get a rating that will tell you how well those articles' links are optimized for that keyword.

Linksy Review: Lifetime Deal
My experience with Linksy has been very positive. Before installing the plugin, I had no idea that my linking strategy was so poor. Not only do links help your readers find more of your content, but search engines prefer you to have appropriate links in your posts. This is an easy method to add links quickly with almost zero effort.
Linksy will be adding the ability to create outbound links directly from their main menu – as they do with inbound links. So this should make the entire linking process even easier.