40 Low Content Book Ideas: If you're looking to make money with KDP publishing, then you've surely seen or heard about low content books. They are usually simple books that your customers will need to fill out themselves. These can be journals (diaries), notebooks, graph paper, coloring books, planners, etc. They are simple to design and quick to make, so you can upload more books to Amazon KDP in less time.
Notebooks / Journals
Notebooks and journals are the easiest type of low-content books to design. You just need to add lines, dots, etc. to a book and give it an appealing cover. It could be a journal for kids, grandparents, or for musicians. By targeting specific groups, you can reach niches that might not be catered for – and sell more books. Notebooks are, by far, the easiest and fastest to make of the KDP low-content book ideas in this article.
Types of Journals / Notebooks
1. Lined Journals
2. Guided Journals
3. Anxiety Journals
4. Dream Journals
5. Dot Grid Journals
6. Food Allergy Journals
7. Pregnancy Journal
8. Manuscript Paper
9. Sketchbooks
10. Guitar Tablature Books
Where to Find Notebook / Journal Templates
There are online guides that will show you how to create lined paper and dotted paper on your own. However, with homemade lined paper, there are usually discrepancies in line height and additional errors when uploading to KDP. Instead – there's a handy tool I use that creates perfect lined and dotted paper each and every time. You can choose the line spacing, line thickness, number of pages, and page size. Though my favorite feature is that it adds a gutter according to your preference. This means that your lines/dots will not overlap out of the KDP borders that you need to stay within. This makes for perfect journals each and every time.
You can find it here.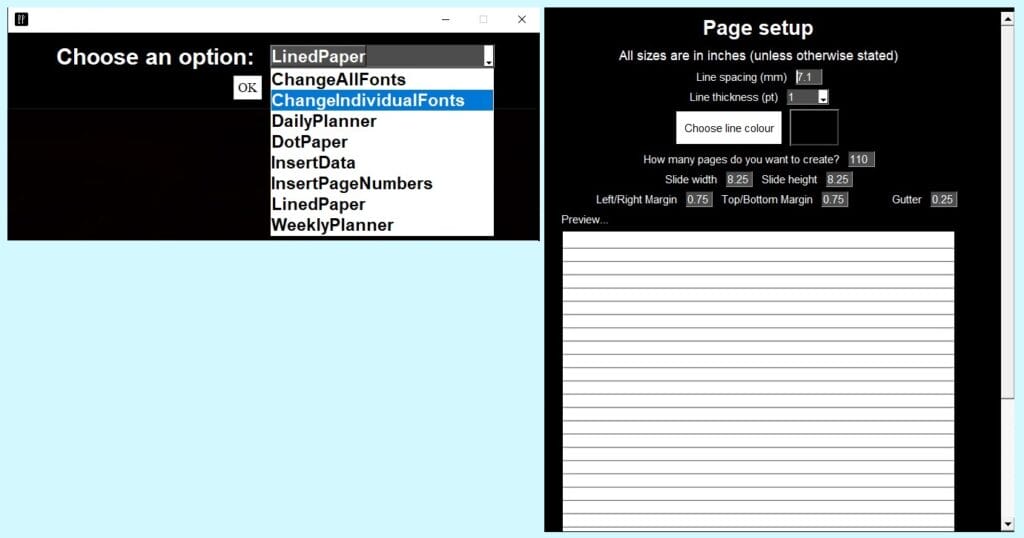 Log Books
Log books are a great way to record information. The prompts in each book allow customers to organize and catalog their experiences. For example, if you were to create a fishing log book – you could keep track of how many fish you've caught, the species, the weight, etc. The log book would have prompts for each of these groups so that customers can easily log their information.
Types of Log Books
11. Coin Inventory Log Book
12. Health and Safety Log Book
13. Camping Log Book
14. Security Log Book
15. Dream Log Book
16. Bird Watching Log Book
17. Wine Tasting Log Book
18. Football Playbook Log Book
19. Blood Pressure Log Book
20. Food Allergy Log Book
Where to Find Log Book Templates
There are lots of resources for log books online. Many websites will give out away one of their old templates for free on their website. However, many of these are simply scans of originals and are low quality. My favorite resource for log book templates comes with 95 templates that are dynamically generated according to your preferences. They can then be edited to your liking and instantly duplicated.
You will find it here.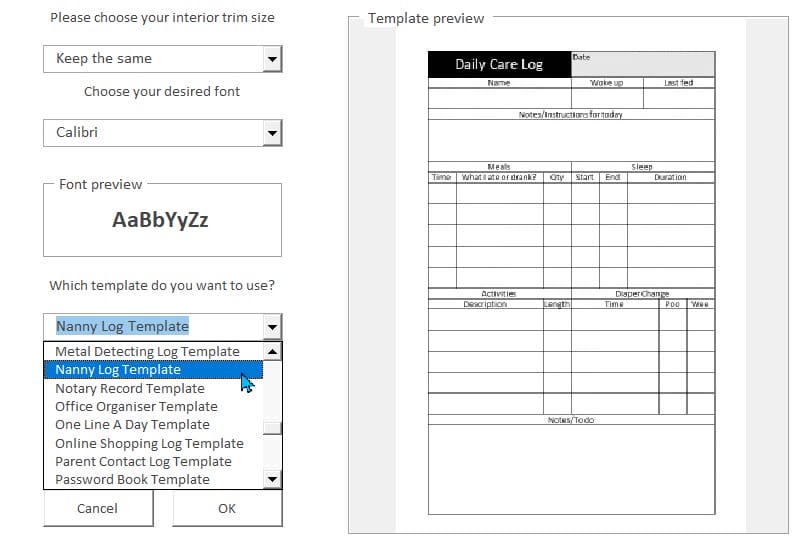 Puzzle Books
Puzzle books are some of the most popular types of books sold on Amazon. They are sometimes referred to as medium content books as they have a lot more content than regular low content books. There are lots of different games and puzzles that you can make and sell on Amazon. And they are popular with both kids and adults, so you'll always have someone interested in your product.
Types of Puzzle Books
21. Sudoku Puzzle Books
22. Word Search Puzzle Books (free word lists)
23. Cryptogram Puzzle Books
24. Crossword Puzzle Books
25. Tic Tac Toe Books (Noughts and Crosses)
26. Word Scramble Books
27. Hangman Books
28. Maze Puzzle Books
29. Four in a Row Books
30. Warships Puzzle Books

Where to Find Puzzle Generators
Advanced Maze Puzzles
If you love mazes and want to make more intricate ones – that just aren't possible in PowerPoint – then you'll definitely be interested in this next tool. It's made by the same creator of the puzzle generation tool, but runs directly in Windows and gives you tons of additional options to make your mazes look incredible. This maze generator software comes with a lifetime license, so you only need to pay for it once.
You can find it here.

Activity Books
Activity books can be classed as a variety of different things. They are predominantly used by children, but more recently there become very popular with adults. These are things such as coloring books, math problem books, etc.
Types of Activity Books
31. Coloring Books (for adults and kids)
32. Math Problems
33. Letter Formation Books (Regular and Cursive)
34. Shapes and Color Books
Where to Find Activity Book Tools
Coloring Pages
If you're looking to create quality coloring books for your customers – then there are a few ways that you can go about it. The first one is to use the puzzle generator software that we mentioned in the last section. It comes with a tool that can easily remove the color and interior of images to convert them into coloring page images.
You can find it here.
Maths Puzzles
The puzzle generator software comes to the rescue by also including maths problems in its massive suite of tools. You can choose the number of mathematics puzzles you want per page, as well as the difficulty. You can, therefore, create lots of books for a variety of student levels.
You can find it here.
Planners
Planners are books that are used to organize your day, week or month. You can create planners for students, for professionals, for parents, etc. You can focus on special occasions such as wedding planners or simply on the entire year. Planners are great for organizing your day and your activities. Lots of people (like myself) require planners or detailed calendars to keep our lives organized. They are especially useful for anyone with a bad memory.
Types of Planners
35. Daily / Weekly / Monthly / Yearly Planners
36. Wedding Planners
37. Budget Planners
38. Study Planners
39. Productivity Planner
40. Goal Planners
Where to Find Planner Templates Online
You don't need to look far to find great planner templates. If you've already picked up the tool we mentioned earlier for log books, then you already have what you need to create planners as well. This software runs on PowerPoint and allows you to quickly create log books, planners and other interesting templates in seconds.
You can find it here.
You can also grab some free templates from this Gumroad seller here.
KDP Low Content Book Ideas: Conclusion
And there you have it. Those are our top 40 low content book ideas and templates that you can use to create amazing books for your Amazon KDP account. When creating content for your KDP, it's important to always put quality before quantity. There are a lot of low quality books on the market already. Customers are looking for a solid product from a good author – who put time and effort into each and every one of their products.
Good luck!