Top 15 Easiest Fiverr Gigs To Make Money Fast: Fiverr is a great way to earn extra money. In fact, you can make a full-time income by selling your services on this platform. What most people don't know about Fiverr is that a large portion of the services provided can be automated with software. Now, I'm not talking about programming or video editing, etc. – I'm mainly talking about content creation gigs. There's a lot of software that's been made to improve the creation of content, and most people simply don't know about them. People who do know are taking advantage of the blindspot to create content in next to no time and getting 5-star results on Fiverr.
I'm going to show you some of the ones I've spotted that you can use for yourselves. I'm going to assume that you already have a PC/Mac or a laptop, so I won't list these as required tools. Some gigs will require tools like a microphone, or downloading some free software. There are others that require subscription software, but you can pay off a monthly subscription with a single gig, so I don't consider them expensive. Lastly, I'll try to include a course on how to get started for complete beginners, or those that need a bit of a confidence boost before creating their first gig on Fiverr.
Okay, let's get to it! These are the top easiest Fiverr gigs to make money fast
---
Text Content
Write Blog Posts
Writing blogs isn't as difficult as you think it is. There are AI writing tools that can take care of the biggest parts of the content, leaving you to simply add some finishing touches. If you haven't tried out an AI tool yet, then check out the free trial of Rytr. It will create all the content you need to make hundreds of blog posts a month. And unlike other AI tools, you'll get an unlimited number of words with your subscription.

How It Works: You can make numerous gigs on Fiverr to create articles, blog posts, SEO articles, etc. When a client gives you a subject, you can use the AI tool to create headings, an outline, an introduction, paragraphs, and a conclusion. AI tools create completely unique text. This means that they don't steal text from other websites, and their "facts" will need to be checked, as they probably won't be accurate. Now, you simply need to check the article for consistency and add some additional interesting points, facts, or quotes to make the article shine.

Potential Earnings on Fiverr: High
Required Tools: None
Required Software: Rytr (Unlimited AI Writing)
Learn How To Do It From Scratch: Blog Post Writing Course

Bonus: If you want your gig to really stand out among the others, you can offer to add unique images to each of your articles. You can use a tool like Jasper Art that uses AI to create completely unique images from a text prompt. You simply tell it what to create, and it will magically make it for you.
Required Software: Jasper Art (Unlimited AI Images)
Learn How To Do It From Scratch: Create And Sell AI Art Course

---
Resumes (CVs) and Cover Letters
This really shouldn't be a gig, but it is. People pay good money to spruce up their resumes and have cover letters written for them. It doesn't take long to learn how to write a good resume, and you'll get better with each new one that you do. However, AI writing tools are able to write this type of content quite easily.

How It Works: Rytr has a cover letter tool in it that will do it all for you automatically. Simply tell it what the job role is and the main job skills, and it will create a cover letter for you. As for the resume (CV), Canva has a ton of resume templates that you can use. You simply need to copy the text from your customer's resume to the new modern resume template. This is one of the absolute easiest Fiverr gigs to make money fast.

Potential Earnings on Fiverr: Good
Required Tools: None
Required Software: Rytr + Canva
Learn How To Do It From Scratch: Resume Writing Course

---
Proofreading
This is another one that I've had a lot of experience with. I've taken numerous jobs as a proofreader, and it was once my full-time job. It's something that I started doing without any experience and made decent money from it. You will need to have a decent grip of the language that you'll be proofreading. If you're bilingual or polylingual, then you'll have more opportunities to find clients.

How It Works: You'll want to install a tool to help you catch spelling and grammar mistakes. No matter how good you think you are – you will miss lots of mistakes, as I do. You can use a free Chrome extension called Grammarly to quickly highlight mistakes. It will also show you the correct word to use, or whether you need to delete words. Of course, software can only do so much – you will need to have a very good grasp of your language for this type of gig.

Potential Earnings on Fiverr: Good
Required Tools: None
Required Software: Grammarly
Learn How To Do It From Scratch: Proofreading Course

---
Translations
This one does require you to be fluent in a second language. There are always customers looking to have text translated between 2 languages. You can set up a gig to provide this service for them.
How It Works: There isn't currently any software that can create perfect human-like translations for you. You could use the assistance of Deepl to aid you in your translation, but you will need to make fixes yourself. Never try to use machine-translated as human-made text. It's very easy to spot the difference.

Potential Earnings on Fiverr: Good
Required Tools: None
Required Software: None
Learn How To Do It From Scratch: Translation Course

---
Ebook formatting
Normally, formatting an ebook is a pain to do. But there is one tool that does an amazing job of formatting both paperback books and e-books. It's a tool called Vellum and unfortunately, it's only available on MacOS. Vellum does most of the formatting automatically, you may just need to move a few things around to complete the formatting, or fix any weird spots.

How It Works: Vellum sells for a set once-off price, then you can use it for an unlimited number of books. Most authors, however, aren't planning to make hundreds of books, so most don't consider investing in a tool like this. However, for someone that going to be using it for business, it makes a lot of sense.

Potential Earnings on Fiverr: High
Required Tools: None
Required Software: Vellum (Only available on MacOS)
Learn How To Do It From Scratch: Formatting with Vellum Course


---
Image Content
Create AI Art
AI images are the newest craze that's hit the internet. You can create pretty much any image you can think of by simply typing out what you'd like into an AI tool. You need to direct the AI by typing the right arrangement of sentences called a prompt. The better your prompt, the better your image. These AI images are completely unique so there's no copyright attached to them, and you can use them for whatever you like. This means you can sell them, use them as images for your book covers, for logos, game characters, comic books, etc. This technology is developing lightning-fast with new developments every day. And because it's so new, there's still a lot of potential to be tapped from this niche. It is currently one of the most under-served Fiverr niches at the moment.

How It Works: Currently, the best way to get hold of unlimited images is through a Jasper Art subscription. Although their AI text generation is ridiculously expensive, their AI art tool is sold at a bargain price. With your monthly subscription, you can simply create AI images for buyers or use the images in all your other projects. The trick to making beautiful art is by writing the right type of prompt. And luckily, we made an easy guide to better AI prompts for you to check out.

Potential Earnings on Fiverr: Very Good
Required Tools: None
Required Software: Jasper Art (Use the Sign Up button at the top right to get the Jasper Art deal)
Learn How To Do It From Scratch: Create And Sell AI Art Course

---
Low Content Books
Low content books are some of the easiest types of books that you can make and sell through Amazon's KDP program. These books include lined journals, diaries and log books. For the most part, they are simply books with lines inside, and a nice cover. However, as more people join KDP and create these low content books, more and more uploaders have to run ads to remain profitable. You can instead focus on creating high quality low content books and sell them directly on Fiverr. This will mean providing both the interior and the cover the book, but it's a lot easier than you might think.

How It Works: There's this tool called Book Bolt that has everything you need to create complete low content books with great-looking covers. Their software has an array of different lined templates and log book interiors that you can quickly insert into your books. They've also recently released a cover designer to their range of tools, so you can build your cover by simply dragging and dropping images and text from their tool into your design.

Potential Earnings on Fiverr: Good
Required Tools: None
Required Software: Book Bolt
Learn How To Do It From Scratch: Book Cover Creation Course + KDP Low Content Course

---
Puzzle Books
This is a huge seller on Amazon's KDP. Be sure to make some of these and upload them yourself before Christmas comes around. People will also be scrambling for these on sites like Fiverr. You should never reuse puzzle books as this can cause issues for the uploader by the Amazon team, which in turn will lead to bad reviews for you. You'll want to create a brand new book for every customer you get.

How It Works: Book Bolt isn't only for cover creation and low content interiors. If you get their Pro Plan, it will come with puzzle generation software included. So instead of simply adding lined pages to your books, you can now fill it with sudoku puzzles, crossword puzzles or word searches.

Potential Earnings on Fiverr: Good
Required Tools: None
Required Software: Book Bolt
Learn How To Do It From Scratch: Book Cover Creation Course

---
Maze Books
As we've already mentioned, KDP is a huge money-maker for a lot of people. Once you've got the hang of putting together a great cover, the interiors themselves are pretty easier to make.

How It Works: You can create beautiful mazes using the Bowes Maze Generator tool. It gives you a variety of different options to make your mazes really stand out. If you try out some online maze tools, the one thing you'll find in all of them is that the arrows showing you entrances and exits are all microscopic. To avoid complaints from customers, I only use the Bowes Maze Generator, which allows you to change arrow sizes – among all its other options.

Potential Earnings on Fiverr: Good
Required Tools: None
Required Software: Book Bolt + Maze Generator
Learn How To Do It From Scratch: Book Cover Creation Course

---
Logo Creation
I have had a bunch of logos made over the years. Sometimes I made them myself, and other times I've paid for them. Now I'm not a designer by any stretch of the imagination, so I've had to rely on online tools to make some really good ones. It's only recently that I've found that you can actually buy logo creation tools, and use them for commercial purposes. Logos make a lot of money on Fiverr and on freelance sites, so it's something useful to learn how to do.

How It Works: There are numerous logo creation tools available online. With a quick search, you're sure to find one that will work for the type of logos you want to create. The one I recently started using is called DesignEvo, and have a lifetime deal running for their logo creation tool. This means that you pay for it once, and you can use it as much as you like. Their wording is a little confusing, but basically you allowed a maximum of 2 saved projects in the lifetime deal. You can edit those 2 projects as much as you like to make an unlimited number of logos. However, once you've removed an old project, if a client needs some changes to an icon, that file will already be gone, so you'll have to start from scratch.

Potential Earnings on Fiverr: Good
Required Tools: None
Required Software: DesignEvo Plus
Learn How To Do It From Scratch: Logo Creation Course

---
Canva Graphics
There are tons of things that you can do with Canva. You can create banners, birthday cards, posters, flyers, social media posts, YouTube thumbnails, wedding invitations, work presentations, etc. and you can sell them on Fiverr. Canva is incredibly easy to use and it makes creating beautiful content an absolute breeze to do.

How It Works: You can start off with one of Canva's provided templates or start with a blank page and simply combine their provided images, with their shapes and text to build beautiful designs. As someone with absolutely no imagination, I've made and sold numerous designs that were all made through Canva.

Potential Earnings on Fiverr: Very High
Required Tools: None
Required Software: Canva
Learn How To Do It From Scratch: Canva Design Course

---
Audio Content
Voice-Over Artist
If you've gotten compliments on your voice before, then you might be able to make some extra money using it to narrate to YouTube videos. Lots of us have terrible voices or accents, and require a voiceover artist for our videos. All you need is a good mic to get started.

How It Works: There are some that people that have trained their voices for singing or speeches, and others that just naturally speak well. If you fall into this group, then this might be the gig for you. Clients will send you a script, and you'll need to narrate the text and record it. If you've recorded audio for YouTube before, then this should be pretty simply for you. You'll want to make sure that the audio sounds good and adjust audio levels for a professional finish. I've included some great courses below for those that haven't recorded audio before.

Potential Earnings on Fiverr: Very High
Required Tools: A good microphone
Required Software: Audacity (free)
Learn How To Do It From Scratch: Voice-Over Course + Audacity Bootcamp

---
Video Content
Sync Subtitles or Captions to Videos
This is something that I used to do full-time on Upwork. Many years ago, adding subtitles to videos was a difficult job to do, but you can now have most of the work done with software. Your job will focus around checking the software's outputs accuracy. Software like Descript can automatically convert voices into text.

How It Works: Descript is a powerful tool that has a huge range of features. We're just going to focus on the subtitle/caption features, but you could easily use its other features to make additional gigs on Fiverr. On Descript's Pro Plan, you will get 30 hours of transcription. A lot of people will only have short 5 or 10 minute videos, so 30 hours will go a long way. This software will take care of converting the audio to text – as long as the audio is clear enough. You can also have it remove all filler words automatically, such as "um, ah" etc. You can then export them as text, or subtitles or burn them onto the video.

Potential Earnings on Fiverr: High
Required Tools: None
Required Software: Descript

---
Deliver A Message
You can make money using your sparkling personality or props/costumes that you have on hand. People will pay to have messages sent from people in specific professions. This usually has to do with an inside joke of some sort. If you work as a nurse or a postman, you can offer to send a video message to someone special while dressed in uniform. If you have any celebrity costumes lying around from Halloween, or can do a good impersonation of anyone famous – this is also quite popular.

How It Works: Decide whether you're going to deliver your messages in a uniform or a costume, and put your ads up on Fiverr. You can make various different ads to see which ones are most popular. Once you find the right niche for you, you can expand it with similar characters.

Potential Earnings on Fiverr: High
Required Tools: A good camera + a good microphone
Required Software: Kdenlive (free)
Learn How To Do It From Scratch: Kdenlive Video Editing Course

---
Design
WordPress Website Creation
This one might take a little bit more effort than the other options I've included. Personally, as someone who's been using WordPress for over 10 years, this seems very simple to do, but I do expect that for many it could seem more difficult. WordPress is extremely easy to use once you've taken some time to play around with it. It's a free platform that you can upload to whichever hosting service you use. It's also one of the easiest ways to create and edit a website/blog. So although people might think it's extremely technical from the outside – in reality, it's super simple to create a website on WordPress.

How It Works: If you want to start making WordPress sites for customers. You'll simply need to learn the ins-and-outs of WordPress and invest in a good page builder. WordPress comes with a page builder called Gutenberg included with it, which works well for simple websites. But if you want to start creating very eye-catching websites, you'll want to look at a page builder like Elementor. This is a drag-and-drop builder that works extremely well on WordPress and allows anybody to create stunning websites.

Potential Earnings on Fiverr: Very High
Required Tools: None
Required Software: Elementor
Learn How To Do It From Scratch: Elementor Course
Bonus: You can expand even further with this idea by providing your website to your customer with a months of free website hosting. Once this runs out, they can extend this by choosing a monthly plan with you. Many hosting companies have reseller hosting, which basically means that you whitelabel their hosting service as your own. So your website customers will continue to pay you monthly to have their websites live.
Required Software: Reseller Hosting
Learn How To Do It From Scratch: Reseller Hosting Course

---
Trending Fiverr Services
Another way to find popular Fiverr services is to check the Trending tab at the top-right of the screen. This will show you what gigs people have been searching for recently. Check out some of the listings, and you may find something that you're good at as well.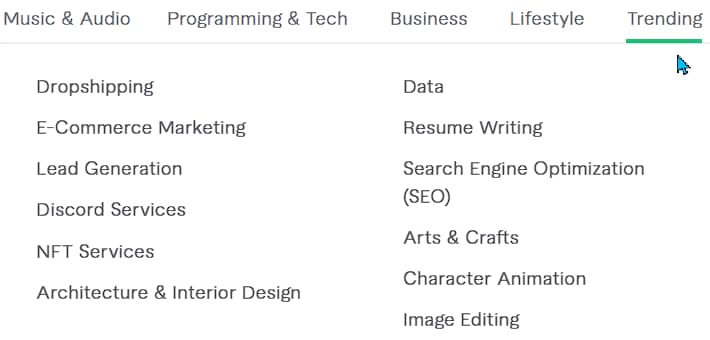 New Low Competition Gigs
Another great way to find low competition gigs is to check what categories have just been added to the menu. You'll easily notice these due the the red "NEW" sign next to each one. Fiverr is always adding new categories to the menu, to keep up with all the new gigs that people come up with. If it's new, then there's likely only a few people doing it. Working on one of these is a great way to get some quick jobs to build up your portfolio.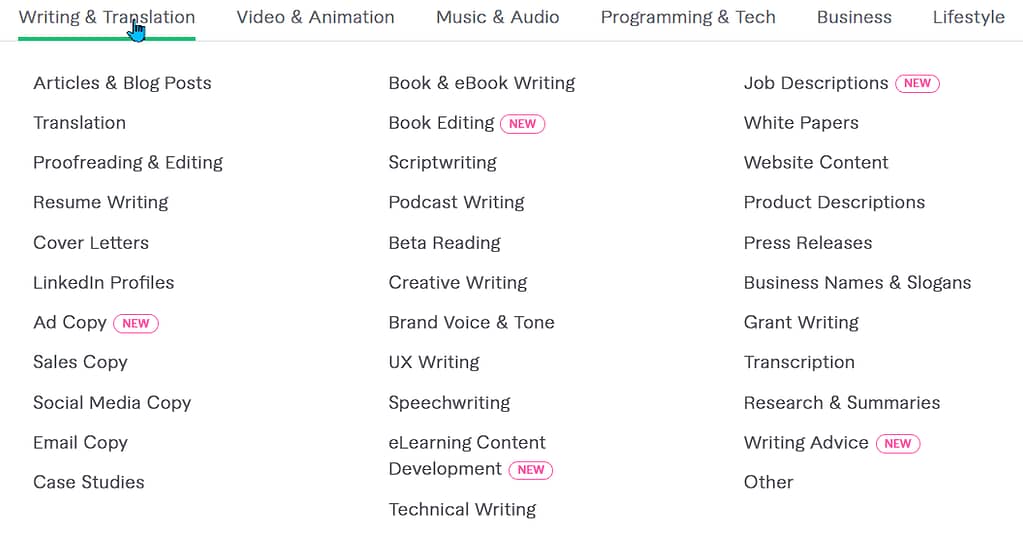 Easiest Fiverr Gigs To Make Money Fast: Conclusion
And there you have it, these are the easiest Fiverr gigs to make money fast. Now, I'm not going to call these low-skilled jobs because I don't believe that any type of work is truly no- or low-skilled. If you're making money from it, then it requires some skill. However, the choices that I've given you above are gigs that you can learn about very quickly, and there are tools that can make the whole process even simpler. I've added the best courses to take you from beginner to pro in a few hours, and the tools I've mentioned are all extremely powerful when used the right way. So now the only thing left to do is to get down to work.
Frequently Asked Questions
Can I really make money on Fiverr?
The answer is a resounding yes! In fact, many people are making a full-time income from Fiverr. How? By offering high-quality services and delivering them quickly and efficiently.
Of course, like with any business, there is some initial investment required – such as software and running through a quick course to improve your skills. You'll also need to create a profile and gig that accurately represents your skills and what you're offering. But once you get started, the sky's the limit!
How can I make my Fiverr gig stand out from the rest?
Here are a few tips to make your Fiverr gig stand out:
1. Use attractive visuals.
The first thing potential buyers will see is your gig image, so make sure it's eye-catching and relevant to your services. You can also add a video to your gig to really capture attention.
2. Describe your services in detail.
Be as specific as possible when describing what you'll do for the buyer. The more information they have upfront, the more likely they are to choose you over other sellers.
3. Offer unique features or extras.
What can you do that other sellers can't? Add special bonuses or extras to your gig so buyers know you're the one for the job.
4. Be clear about turnaround times and communication.
When will you deliver the work? How often will you update the buyer on your progress?
5. Set a fair price.
Make sure your price is reasonable and worth it for the buyer, but also that you earn enough money to make the gig worthwhile for you.
Is it easy to make money on Fiverr?
As with anything in life, you will have to start at the bottom and work your way up. When you first create your profile, you won't have any previous reviews on your account. At the beginning, you'll have to either have lower prices or offer additional bonuses to drum up business. But once you've made a name for yourself, it gets a lot easier. People will be messaging you daily with requests and you'll have to start rejecting jobs that you just don't have time to fulfill.
How much money can you actually make with Fiverr?
You might be surprised to learn that you can actually make quite a bit of money with Fiverr. Of course, how much you make depends on a variety of factors, such as the type of gig you offer and the demand for it. But if you play your cards right, there's definitely potential to earn a decent income from Fiverr.
For example, let's say you offer a gig that involves writing articles. If you're able to complete each article in about an hour and charge $15 per article, that means you're earning $120 per day – if you work 8-hour days. Not too shabby!
Of course, there are also gigs that command much higher prices. For instance, if you're a skilled voice-over artist, you could easily charge $35 or more to say 50 words in an advertisement.
When do I get paid?
Sellers are paid as soon as a gig has been marked as complete. Their payment will be transferred to their account but will be held for 14 days before they can be withdrawn.