Creating a Cryptogram: Cryptograms are becoming more and more popular with people of all ages. Just as sudoku started out with a smaller fanbase before blowing up, cryptograms are taking a similar route. They are challenging, fun and educational. And if you're someone who creates KDP puzzle books, then you'll love the cryptogram generator that we use.
What Makes a Good Cryptogram Puzzle Generator
So, what makes a good cryptogram generator?
The key factors are ease of use, customizability, and the quality of the puzzles created. A great generator will provide users with simple instructions on how to play the game, so even beginners can easily get started. Additionally, there should be a way to adjust difficulty levels, ie. easy-to-solve beginner puzzles to more difficult ones for experienced players. Finally, it should be possible for users to customize their whether puzzles to show the clue normally, or have it scrambled as well.
Best Cryptogram Generator Software
My favorite cryptogram generator software comes bundled with a bunch of other puzzle tools as well. It runs in PowerPoint, but the creator will be releasing a new version soon that will run independently of PowerPoint.
This tool will allow you to make cryptogram as well as a ton of other incredible puzzles. You are able to edit your font and other formatting, you can sort your puzzles in various ways, as well as add margins to both sides of your puzzle (perfect for KDP)
The best part of this tool, however, is its accuracy. One of the main problems with cryptogram generators is that they aren't very good at making puzzles without mistakes. Cryptograms require letters to be replaced with other letters, and most generators have a few letters that are not replaced. This simple error can ruin an entire book of puzzles.
???? Cryptogram Puzzle Generator
How To Create a Cryptogram
Creating a cryptogram is very simple when using the right software. In this example, I'll be using the specialty puzzle tool that I've mentioned above. To get started, you simply need some clues and answers to input into the provided Excel sheet.
For beginner puzzles (or for kids) you'll want to use longer sentences, while for more advanced cryptograms, you'll use shorter sentences. This sounds counterintuitive but it actually makes a lot of sense. With fewer letters to work with, it makes it much more difficult to guess the right letters to fill in.
The tool comes with a few examples set up already for you to test out. In the example below, you'll see easy to medium puzzle length sentences.

You'll simply replace these sentences with the ones that you'd like to use in your puzzle. You can find lots of quotes online, so you can choose a theme that best suits your KDP book. Hit Submit on the Main Sheet, and your puzzles will be loaded into the PowerPoint puzzle tool.
Now you simply need to open PowerPoint and choose the settings that you'd like. There are lots to choose from, so you can make a variety of different books.
You can choose to encrypt the clue as well, or leave it normal as a little extra help for your readers.
You can also choose to hide the grids completely or have the squares show (great for beginners).
You can also adjust the left and right margins according to how large your book will be. This makes it easy to upload to KDP without images/text going outside the margin.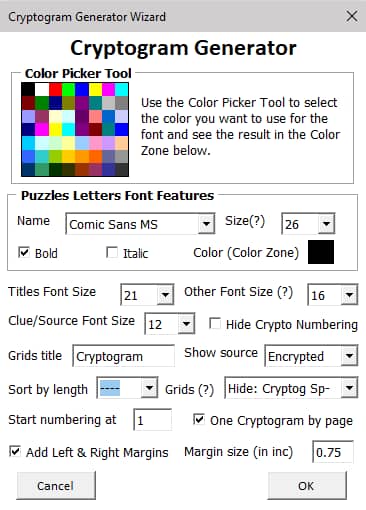 You'll be left with a puzzle that will look, like one of the ones you see below (depending on the options you choose).

The tool also creates a hint and solutions page. The hint page will give your readers a few hints without telling them all of the clues.
This is a great way to get newer people into cryptogram. You can always delete the clue page in more advanced books – if you want to.
The solutions page at the end will show them if they've gotten the answer right. It's made very compact, so that you won't have to print too many pages out.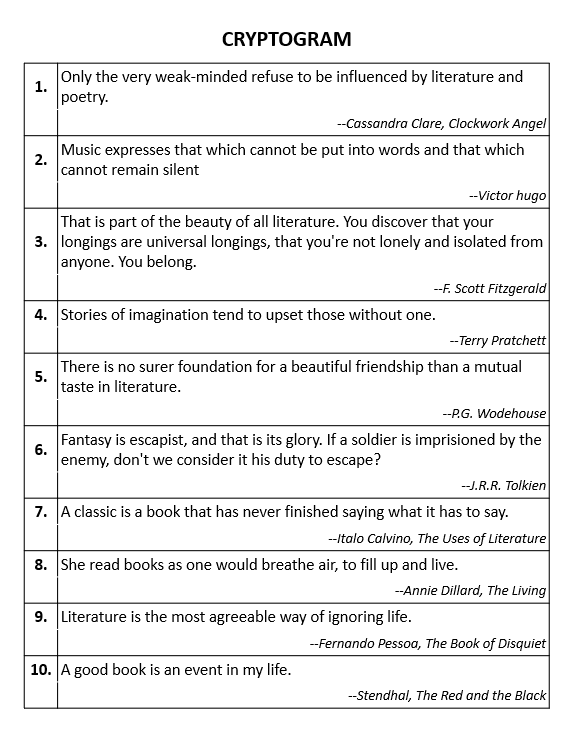 FAQs
What Is A Cryptogram
Cryptograms are a fun and challenging way to exercise your brain! They take the form of puzzles in which each letter of the alphabet is substituted for another, requiring decipherment by the reader.
In a cryptogram, every letter of the alphabet is swapped out for another one — so if you see an "X" in the text, it can be any other letter of the alphabet, except for X. This means that deciphering a cryptogram requires looking at all the different letters and patterns used to solve it. To do this, readers must think outside the box; some hints may be provided with certain words or phrases as well as spaces between words to help guide them along.
Whether you're trying to beat your own personal record or challenge friends and family, cryptograms are sure to test your problem-solving skills while providing hours of entertainment!
What Ages Are Cryptograms For?
Cryptograms are fun puzzles that can bring joy to people of all ages! Whether they're in grade school looking for a fun activity, or an adult searching for a challenging mental workout – cryptograms have something for everyone.
Cryptograms are great because they offer difficulty levels appropriate for any age. Children will enjoy guessing letters using the simple clues provided, while adults can test their knowledge with more difficult puzzles. No matter your level of experience or expertise, there's always a cryptogram that gives you the perfect challenge without being too frustrating. Plus, solving cryptograms is great practice for problem-solving and analytical thinking skills – it's like exercising your brain!